Brian Hawes & Seth Roberts
– Hosted at Your Home or Office
part of a series on Underdog
About the speaker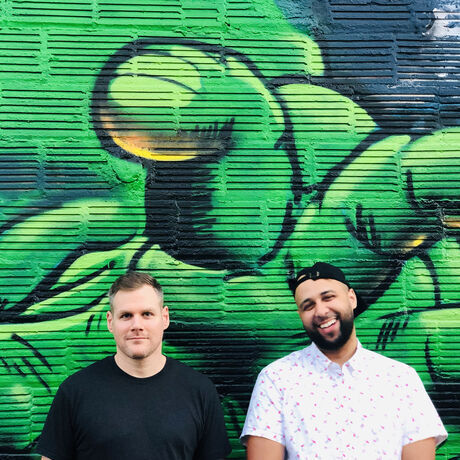 Brian Hawes and Seth Roberts have been making cartoons together since 2013. Their first creative endeavor was a comic strip about a dog that was elected President called Franklin Dog Roosevelt.
That comic lead to a gig creating the comic series called "Designer Problems" for Creative Market's blog and social media channels. The weekly series ran for 11 months and focused on the everyday frustrations of designers and the creative field.
These days Seth and Brian are creating cartoons for The New Yorker Magazine, The Weekly Humorist, and a growing Rejected pile on Seth's desk.
BRIAN HAWES
Brian is currently a Producer at USAA, where he strives to find creative solutions to complex problems.
Before USAA, Brian spent four years in the U.S.Navy, where he deployed twice, serving aboard the U.S.S. Enterprise (the aircraft carrier, not the starship).
After the Navy, Brian landed his first job in the creative field, working in the Creative Services Department of News 4 San Antonio, the NBC Affiliate in San Antonio. During his time there, he won two Emmy Awards, learned the art of working with designers, and interacted with Randy Beamer daily (which was awesome).
In his free time, Brian enjoys running, spending time with his wife and daughter, and creating cartoons for The New Yorker Magazine with his creative partner and friend, Seth Roberts.
SETH ROBERTS
Seth is a Design Director at USAA focusing on personalization and mobile apps. Growing up, Seth was always interested in art and drawing, but he started to lean into it during his high school years at Fox Tech.
After earning a degree from UIW, Seth worked at a few local design firms and designed for clients like Dough Pizzeria and The Pearl Brewery. He later went on to teach Web Design classes at his alma mater.
In his free time, Seth enjoys drawing, Japanese whiskey, and vinyl records (Freddie Gibbs currently spinning).
He also enjoys spending time with his lovely wife and their dog and bird.
Location
Hosted at Your Home or Office
.
San Antonio, Texas United States 78212
When
–