Whether it's turning a small backyard garden into a 200-acre organic farm, or selling grilled cheese sandwiches out of a VW Bus at Grateful Dead shows, Brenton Johnson has always been about taking action.
Brenton Johnson's journey from a mechanical engineering student in Georgia to a force in the organic farming world is an inspiration to anyone who ever wanted to take action on an idea rather than just daydreaming about it. And as you'll see in this video, any idea you believe in is worth pursuing.
About the speaker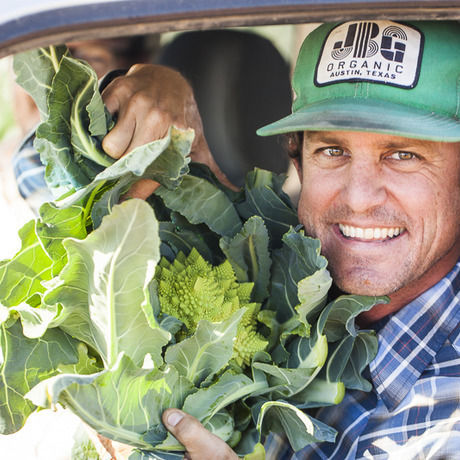 A taste of Brenton, in Brenton's own words:
"I was born in Dothan, Alabama and raised with an awareness of the challenges facing farmers.
I lived in a subdivision created in the center of a patchwork of farms, while my dad was a loan officer with the Farm Service Agency (FSA), mirroring the work of my grandfather. Papa had a big farm on the Chatahoochee River that separates Georgia and Alabama. He worked for the FSA during the day and spent his nights and weekends growing corn, cotton, and peanuts. He was a renaissance man of sorts… not only working a white collar job and the land, but raising animals, building houses, running a trailer park and laundromat, and selling bait from a little shop for use at his boat landing.
I admired my grandfather, but I thought I would take a different track.
By the time I reached Auburn University, I thought that farming was something you would do if you didn't go to college and had no other options. I spent my first three years at Auburn studying Mechanical Engineering, all the while slinging hot n' sexy grilled cheeses out of my 1966 VW bus at Grateful Dead concerts… and then I had a realization. I began to realize that all animals are created equal, yet humans have set themselves apart by utilizing alternative sources of energy — everything other than food.
The energy a single human consumes far exceeds the energy utilized in a lifetime by every other animal or organism on the planet. I began to view energy as the lynch pin for nature's checks & balances… and something needed to change.
At the beginning of my final year, I changed my major to Agricultural Engineering, and took the first steps towards following in the footsteps of my grandfather… becoming a man of action.
In 2004, I planted the first seeds that would grow into Johnson's Backyard Garden… starting with 30 ft by 50 ft in East Austin, and now cultivating 200 acres of organic vegetables. I've collaborated with many others to follow my passions… including Farmshare Austin, JBG Team Baja, and Ceres Vegetable Society… and with many more to come!
I can't wait to tell you about them, and start making things happen!"
Favorite quotes from this talk See all
"

The driving force behind all of this is a desire to really do good, and to make a positive change in our community, and to feed our community. — Brenton Johnson
added by
Sharon Tan
"

The mission of our farm is: we're growing organically with love and passion. The vision of our farm is that we want to be a model for organic farms all over the world. — Brenton Johnson
added by
Sharon Tan
Photos from this talk See all
navigateleft
navigateright
259

Lovely Attendees






see everyone