Ayşe Seben Dayı
–
part of a series on Divergent
About the speaker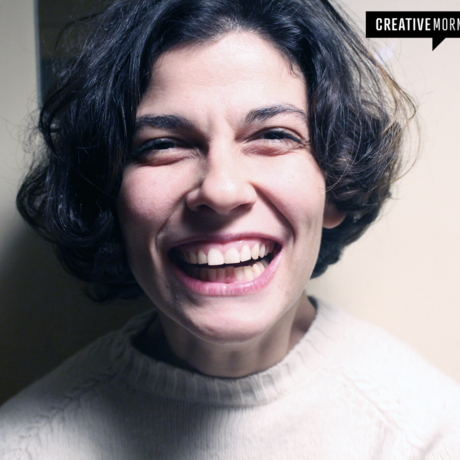 Seben Ayşe Dayı, 31 yaşında, %52 oranında Serebral Palsi'li. (Serebral Palsi, doğum anındaki çeşitli komplikasyonlar sonucu beyinde gerçekleşen nörolojik bir durum. Kısa tanımıyla bir tür beyin felci, vücudun kas kontrolünü kısıtlayan bir tıbbi durum).
Seben, güzel bir çocukluk döneminden sonra, Yeditepe Üniversitesi Gazetecilik bölümünden mezun oldu. Bölümü birincilikle bitirdikten sonra aldığı başarı bursuyla İngilizce Antropoloji bölümünde yüksek lisans yaparak eğitim hayatına devam etti. Uzmanlaştığı iki alanda da eğitimle ilgili çalışmalar yürüttü. Radikal gazetesinin eğitim departmanında Umay Aktaş ile bir dönem staj yapma şansı buldu. Sonrasında okulun yayın organlarında eğitim ve kültür-sanat alanlarında pek çok haber yaptı. Antropoloji bölümünde yüksek lisans programına başladığı yıl alternatif eğitim ve Reggio Emilia yaklaşımıyla tanıştı. İki yıl boyunca farklı okullarda Reggio Emillia felsefesi ve "çocuk ve engellilik algısı" üzerine farkındalık çalışmaları yürüttü. Yüksek lisans derslerinin bitmesiyle tez aşamasına geçti ve iş yaşamına ara verdi. Tez konusu olan "Türkiye'de Alternatif Eğitim Uygulayan Okul Kültürleri" üzerine Başka Bir Okul Mümkün Derneği içinde kurulan Mutlu Keçi İlkokulu'nda altı aylık bir alan araştırması yaptı ve sonrasında 2017 yılının Haziran ayında İtalya'da Loris Malaguzzi International Centre 4th International Summer School eğitimine katıldı.
2018 yılında Serim Yarar, Hale Yıldız ve 3dots ortaklığında Erişilebilir Her Şey'i kurdu. Son üç yılda pek çok büyük kurum, marka ve etkinliğe erişilebilirlik anlamında danışmanlık verdi.
//
Seben Ayşe Dayı is 31 years old and has 52% Cerebral Palsy. (Cerebral Palsy is a neurological condition that occurs in the brain as a result of various complications at the time of birth. In short, it is a medical condition that restricts the body's muscle control).
After a beautiful childhood, Seben graduated from the Journalism department of Yeditepe University. She later completed her Masters degree in English Anthropology with the scholarship she received after finishing the department with first place. She carried out her studies on education in both areas she has specialized. She had the chance to do an internship with Umay Aktaş in Radikal newspaper's education department. Afterwards, she wrote a lot of pieces about education, culture and arts in the university's media channels. She later came across alternative education techniques and the Reggio Emilia approach the year she started her graduate program in the department of Anthropology. For two years, she carried out awareness studies on Reggio Emilia philosophy and "children and disability perception" in different schools. After her graduate courses were finished, she took a break from business life passing on to her dissertation stage. She conducted a six-month field study in the Mutlu Keçi Primary School established within the "Başka Bir Okul Mümkün Derneği" on the thesis subject "School Cultures Implementing Alternative Education in Turkey" and then attended Loris Malaguzzi International Center 4th International Summer School in Italy in June 2017.
In 2018, she founded Erişilebilir Her Şey in partnership with Hale Yıldız, Serim Yarar and 3dots team. In the last three years, she has given consultancy to many large institutions, brands and events in terms of accessibility.
Additional details
CreativeMornings İstanbul bu ayki dijital etkinliğinde "ıraksak" teması altında, Erişilebilir Her Şey'in Kurucusu Seben Ayşe Dayı'yı ağırlıyor. Seben ile değişim için alan bırakmaya istekli olduğumuzda yaratabileceğimiz güzel gelecekleri konuşacağız.
Program: 09:00-09:30: Karşılama ve Kahvaltı 09:30-10:00: Konuşma 10:00-10.30: Soru-Cevap ve Sosyal Alan
Zoom üzerinden gerçekleşecek etkinliğe kayıt olmak için buraya tıklayın: https://zoom.us/meeting/register/tJIpc-mprzoqGtMUkEgXtqSJMlLsm42b824Y
*Etkinlik dili Türkçe'dir.
//
Under the theme of "divergent", CreativeMornings Istanbul is hosting Erişilebilir Her Şey's co-founder Ayşe Seben Dayı. We'll talk about the beautiful futures that we can create when we are willing to leave space for change.
Schedule: 09:00-09:30: Welcoming and Breakfast 09:30-10:00: Talk 10:00-10.30: Q&A and Networking
Click here to register for the event, which will take place via Zoom: https://zoom.us/meeting/register/tJIpc-mprzoqGtMUkEgXtqSJMlLsm42b824Y
*The event will be held in Turkish.