Arpi Karapetyan on Divergent [VIRTUAL]
– Hosted at CMYEREVAN Zoom
part of a series on Divergent
About the speaker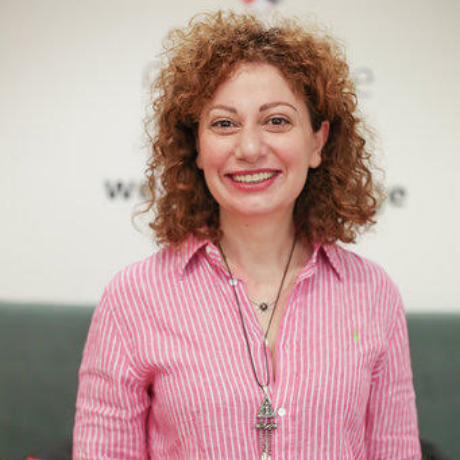 Arpi Karapetyan (www.arpikarapetyan.com) is an Internationally Certified HR Professional (SPHRi, SHRM-SCP), Internationally Certified Coach (EPC), trainer, speaker, and consultant. She is the Founder and General Manager of Cascade People & Business (www.cascade.am) that offers one-stop complex HR solutions, the Founder & Chairman of Armenian HR Association (www.hrcommunity.am) that offers a platform for HRs for networking, and the Initiator of Annual Regional HR Conference (www.hrconference.biz) that brings together internationally recognized professionals, experienced and inspiring guest speakers from more than 20 countries every year. Besides, Arpi is the Founder and Program Developer of zoom in! career orientation program (www.zoomin-now.com) designed to help the participants recognize their personality, identify their strengths, aspirations, capabilities, and come up with an action plan on how to develop further.
Arpi has Ph.D. in Social Psychology with over 25-years of experience in Human Resources Management, 15-years of experience in Human Resources Consulting, Personal Training and HR Community Development, 5-years of experience in Personal and Group Coaching.
Arpi has worked with numerous renowned native and international companies from banking, insurance, production, IT, Telecommunication, retail, NGOs and other sectors. Arpi led over 50+ HR reorganizations and restructurings, 60+ team integration programs, trained and/or certified 200+ HR professionals, realized HR projects for 200+ different companies, fulfilled 2000+ development hours with diverse groups and individuals.
Arpi is also a lecturer at the American University of Armenia and French University in Armenia. She has designed numerous development programs for individuals and teams. She does facilitations, gives public speeches worldwide, and runs career orientation programs.
Local partners
Concept Studio is a full-service design agency itching to leave our mark on the digital world! Our work style is defined by our wide range of strategic collaborations as well as the wealth of experience collected by working with clients from all sorts of diverse industries. We are based in Yerevan, Armenia with a satellite office in Berlin, Germany.
Additional details
CreativeMornings Yerevan-ի հանդիպումները շարունակվում են՝ առցանց հարթակում։ Սիրելի հետևորդներ, մենք ուրախ ենք ձեզ տեղեկացնել հաջորդ հանդիպման մասին։ Կտեսնվենք փետրվարի 27-ին, ժամը 10։00-ին։
Գրանցվեք հիմա, իսկ միջոցառմանը միանալու հղումը Ձեր էլ․հասցեով կստանաք փետրվարի 27-ի առավոտյան։
Միացեք մեզ և բացահայտեք նոր մտքեր՝ Ձեզ համար։
We continue CM Yerevan's online meeting. Dear followers, we are happy to inform you about the upcoming event. Let's meet on February 27, at 10:00.
Register now and you will get the link for the event through your mail by the morning of February 27.
Join us and discover new ideas for yourself.
Location
Hosted at CMYEREVAN Zoom
Zoom Online Conference
Yerevan, Armenia
When
–