Allis Markham
– Hosted at VIRTUAL
part of a series on Biophilia
About the speaker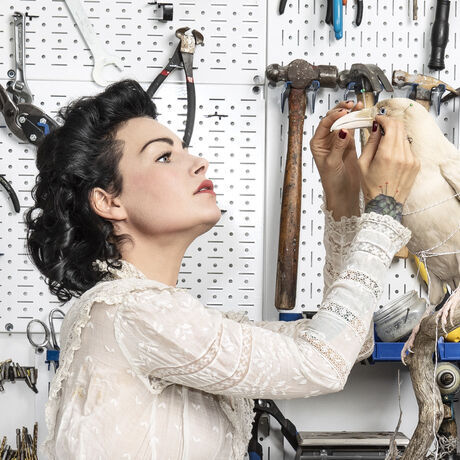 Allis Markham is an award-winning taxidermist / Nassologist. Born in the small town of Madison, Indiana, Allis grew up with a love of both nature and art – happily with a lack of parental supervision that made exploring both possible. Her first career as the Director of Social Media Strategy for the Walt Disney Company however, was a far cry from her naturalist roots.
In 2009, Allis attended the Advanced Taxidermy Training Center in Montana. Upon her return to Los Angeles, she began volunteering at the Natural History Museum of Los Angeles. There she met her mentor, museum taxidermist Tim Bovard. Under his tutelage, Allis earned a staff position in taxidermy, leaving her computer behind for good and picking up a scalpel.
After completing the 'Nature Lab' and 'Becoming LA' exhibits at NHMLA, Allis decided to open up Prey Taxidermy here in Los Angeles. Her clients include institutions such as the Natural History Museum of Santa Barbara, Moore Lab of Zoology, The Huntington Library, The Frost Museum of Science, Colorado State University and The Getty. Additionally, she has created commissions for Gucci, The Nomad Hotel, EB Florals and television shows such as Bates Motel.
Allis has also been featured in numerous publications such as The New York Times, The Washington Post, the cover of LA Weekly and more. You can also watch the critically acclaimed documentary STUFFED, which followed her for several years, or listen to her Ologies podcast.
Local partners
Media Temple is a leader in web and cloud hosting. Media Temple hosts everything from artsy design blogs to huge social networks. What's your big idea? (mt) would love to help you out. Learn more about their clients and hosting plans.
The Noun Project community is creating, sharing and celebrating the world's visual language. Visit Noun Project and download professionally-curated icons and art-quality photos for every project.
Location
Hosted at VIRTUAL
Zoom at your home with your favorite cup of coffee or tea
Los Angeles, California United States
When
–