Afra Atiq on defining your own flow
October 15, 8:15am - 10:00am +04. Hosted at NEST co-working space
part of a series on Flow
About the speaker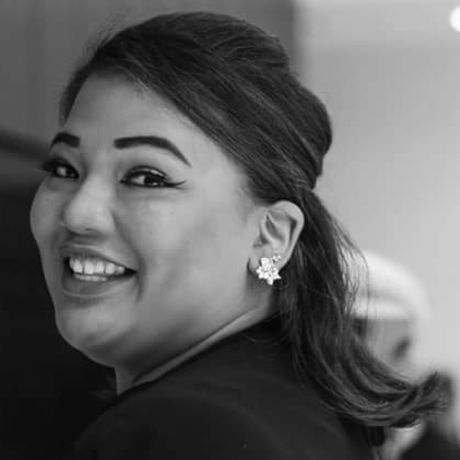 Afra Atiq is an Emirati award-winning poet and PhD candidate who recently won the 2018 Special Achievement Award at the Arab Women Awards and the 2017 ADMAF creativity Award.
She has a master's degree in diplomacy and has been a featured performer and speaker on multiple platforms national and international platforms, including the Louvre Abu Dhabi and the Dubai Opera stage.
With a passion for learning, education and community service, she spends a significant part of her time taking her craft into schools and universities. She gives back to her community through mentorships and workshops with Untitled Chapters.
Local partners
NEST is a full-service shared work space and coworking community providing local members and travellers alike with an inspiring environment, engaging programs and curated networking opportunities. Whether it be hatching an idea, hosting a meeting or simply seeking productivity, NEST provides our guests with room to soar. The NEST is in the TRYP Hotel and Wyndham property.
PODAHOLIKS is a group of UAE based podcasters who believe we all have a story to tell. One word at a time we help you imagine and tell your story. From the conventional interview, annotation of a conference to creating audio dramas, we make ears of all shapes and sizes happy.
On your office desk is a parcel. But it is NOT your birthday. Your name is hand-styled the envelope. Even before peaking inside, your senses are piqued. Opening it, you find curiosities, teasers, tools, & inspiration. Your ideas swirl, play & flow. Joyous desk disruption!
IMAGINESS by Sajory is designed to make your neuro-synapses go wild! A monthly curated subscription package that helps spark your creative thinking at any job, in any industry. You will see how your original ideas become more valued at work using the tools we cultivate, and how your desk morphs into a magnet for creative inspiration through the sensory items we send your way.
Inspired by Creative Mornings global movement, the monthly theme is translated into curated items that support you to get unstuck and on your way to flourishing. Consider it your monthly Professional Development Session in wrapping paper.
Additional details
Plenty of free valet parking, coffee and snacks. We aim to start at 8:15 so plan on your own traffic flow strategy!
Location
Hosted at NEST co-working space
Al Saef 1 Street, Barsha Heights Dubai, United Arab Emirates
Dubai, United Arab Emirates
When October 15, 2019
8:15am - 10:00am