Adil Dhalla
September 27, 8:30am - 10:00am EDT. Hosted at UrbanSpace Gallery at 401 Richmond Street West
part of a series on Connect
About the speaker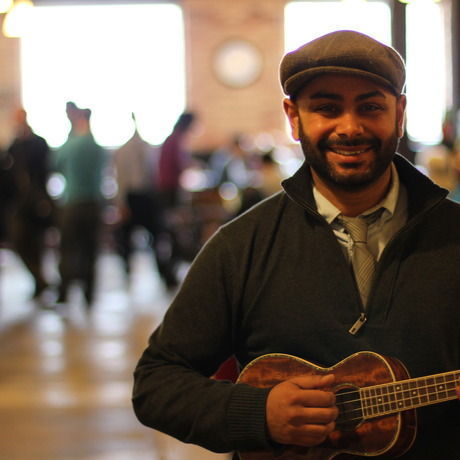 Adil Dhalla is the Director of Culture at the Centre for Social Innovation (CSI) - a co-working space, community and launchpad for people who want to change the world. Previous to CSI, Adil worked as a community organizer for the Obama campaign, introduced micro lending technology to rural Tanzanian farmers and became a pioneer in the mobile video space when he launched My City Lives, a local video platform that had presence in 250 cities worldwide.
It was this experience in social entrepreneurship that lead Adil to CSI and the social innovation movement. Adil's role as the Director of Culture is to act as the glue for the 1200 innovators who call CSI home, constantly weaving together connections and shared purpose through socials, summits and storytelling.
Adil is a founder of Project Ukulele Gangsterism (PUG), a musical project created to disrupt space and spread happiness. PUG has received international attention and seen satellite groups form in the United States, Korea, and more. He often speaks about happiness as both an instigator and a product of innovation where work and culture intersect.
Local partners
Shopify is a commerce platform that offers a professional online storefront, a payment solution, and the Shopify POS retail application. Shopify currently powers over 150,000 online stores in over 150 different countries. If you like to break things for fun, and you're interested in working in a unique, large-scale environment where security and hacking on open-source software is a major focus, check out our careers page.
Additional details
Venue Sponsor http://www.swipe.com/ is an independent store with a selection of contemporary books on graphic design, advertising, architecture and urbanism worthy of space on the most enlightened of shelves.
Venue http://401richmond.net/ is a restored, heritage-designated, industrial building in downtown Toronto that is home to over 140 artists, cultural producers, microenterprises, galleries, festivals, and shops.
Registration for this event opens Monday, Sept 23rd at 11am
Location