Young Talent Take The Stage – Wonder
June 28, 9:30am - 11:00am BST. Hosted at Off Track Coffee
part of a series on Wonder
About the speaker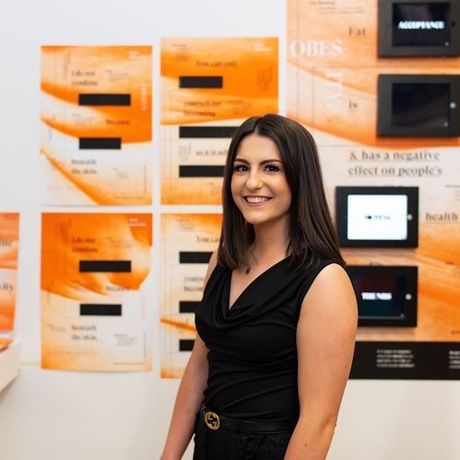 Izzy Young is a gym-going, food-loving graphic designer from Cardiff School of Art and Design with a love for typography in both print and digital design. Her strong interest in social design and its thought-provoking impact led to her final major project: an exploration of the fine line between body positivity and obesity. Izzy also works with a charity that raises awareness of period poverty in Cardiff, and her exploration of identity loss through cosmetic surgery has earned her a place in the International Society of Typographic Designers. After winning the Team Spirit Award at Big Ideas Wales and the Outstanding Studio Practice Award for her final degree show, Izzy is looking forward to entering the creative industry and furthering her skills.
Maris Latham is a Welsh-speaking type enthusiast from Llanelli and who has spent the past three years loving every minute of studying Graphic Communication at Cardiff School of Art and Design. A self-proclaimed adrenaline junkie, Maris can be found skydiving and track-racing whenever she isn't getting stuck into a new design brief. She recently entered the International Society of Typographic Designers for her book exploring the effects of Alzheimer's disease and has just been awarded the Creativity, Professionalism and Exemplary Student Leadership Award for her work. Maris explores the role of design in today's society by focusing on social issues that matter to her and combining them with her love of typography and design. With her final project exploring gender stereotypes embedded within typography, Maris has designed her own family of typefaces and is looking forward to joining the creative industry and pushing her skills further yet.
Originally from Swansea, Tom moved to Cardiff in 2008 and became involved with the local music scene through his band We're No Heroes. Through his passion for music, Tom realised the importance of design and the close relationship between the two mediums. He gained work experience by designing gig posters for local venues and promoters, while working for festivals and creating album artwork for local bands. As a self-taught designer, Tom wanted to take on a new challenge and in 2017 joined the Graphic Communication course at Cardiff Metropolitan University to grow his practice further. Over the course of his two years studying, Tom's confidence and capabilities in his work grew and he took on some amazing opportunities, including an internship, working in industry and on freelance branding projects, while even picking up a few awards along the way. In his final year of university, Tom moved to Barry and from there focused on growing his self-initiated work while also helping local businesses. He started Barry Magazine and Barry Business Club and is currently involved in branding and organising the first Barry Pride. Now a proud Barry resident, upon leaving university Tom will continue to grow his practice, focusing on community involvement and pursuing a more truthful and meaningful approach to design
Angharad Wallace has studied in Cardiff for the past three years and will soon graduate with a degree in Graphic Communication. She left her home on the Isles of Scilly at the age of sixteen to study graphics at collage, and the hands-on course greatly influenced her current style. At university she particularly enjoyed working on branding, editorial briefs and mixing her hand-rendered style with digital to create her outcomes. By mixing screen printing, hand-drawn lettering and illustration Angharad creates balanced outcomes that celebrate the core of the message that is being communicated, and her final project Fresh combines all these methods and approaches to design with her passion for sustainable practices and our shared responsibility to take care of the planet.
Additional details
We are asking you, lovely creatives, graphic designers, UX designers, photographers, illustrators – freelancers, agency owners, industry leaders to come along and help review some of the talented graduates portfolios. We will be so grateful if you can spare some of your energy for talking to the young new designers.
Location
Hosted at Off Track Coffee
West Canal Wharf
Cardiff, Wales United Kingdom CF10 5DB
When June 28, 2019
9:30am - 11:00am