Yoshie Akiba
October 27, 8:30am - 10:00am PDT. Hosted at Oakland Museum of California
part of a series on Pioneer
About the speaker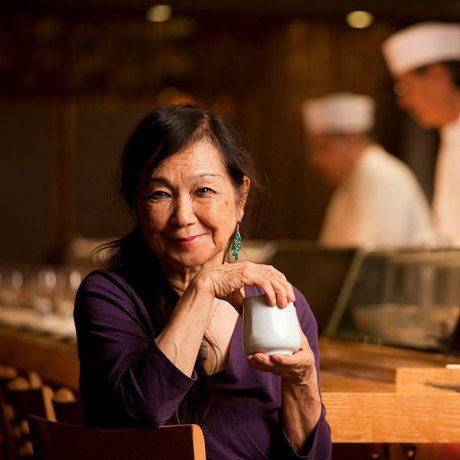 Born in Japan during World War II, Yoshi lost both her parents at the early age of five. Raised in an orphanage near a U.S. military base, as a girl she was exposed to music and dance through USO events organized to entertain the neighboring troops. At the age of 19, she caught the eye of a U.S. military officer who soon proposed.
Yoshi and her American serviceman husband moved to Baltimore, MD in the early 1960's, where she studied Art and Dance at the prestigious Peabody Institute. She soon found she was unsuited for the role of conventional housewife, however. Inspired by the cultural revolution sweeping through the San Francisco Bay Area at the time, she packed two suitcases and headed west.
Returning to her passion, Yoshi continued her dance studies at UC Berkeley. But money was tight, and she longed for a taste of home. Borrowing $7,000 from friends and acquaintances, she and two partners – Kaz Kajimura and Hiroyuki Hori – opened the original Yoshi's Japanese restaurant near the Cal campus in 1972. The tiny eatery thrived, and relocated from Berkeley to a larger space on Oakland's Claremont Avenue in 1985. The more spacious location allowed Yoshi to incorporate her love of jazz. Open seven days a week, the new Yoshi's served as a link to the golden age of jazz, bringing internationally-acclaimed musical acts to its stage. For Yoshi, the addition of live music advanced her search to find a "new way" in the "the new world."
In 1997, Yoshi's moved to its third site, a 330-seat club and adjoining restaurant inJack London Square. A decade later, a second location was established in San Francisco's historic Fillmore district. The Oakland venue continues successful operations as one of the world's most highly-regarded jazz venues.
Yoshi is a practicing Buddhist whose self-proclaimed aspiration is to "keep up something beautiful and make people happy." Today, she achieves this goal not only by maintaining the popular restaurant and jazz club that bears her name, but also through her steadfast support of Art and Music opportunities for Oakland youth. She is uniquely-qualified to appreciate that the value of music, dance, and the arts lies not only in the joy and hope that they inspire, but also in the life lessons that they provide. She hopes that the innovative music and arts programs 51Oakland supports will help to fill some of the gaps created by cuts to education funding, build students' self-esteem and self-worth, and create positive outcomes by instilling the values of diligence, commitment, and hard work.
Local partners
Location