Waubgeshig Rice
– Hosted at Online
part of a series on Radical
About the speaker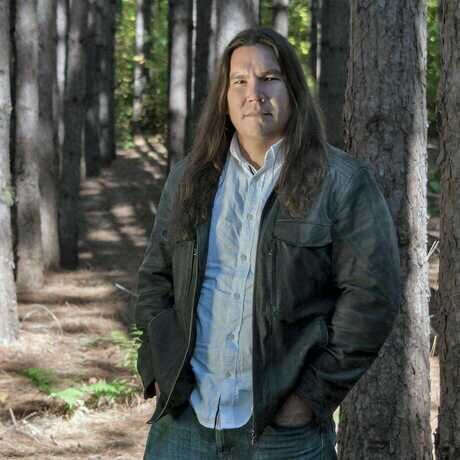 Positive change can come by the way of radical ideas, but we must be willing to reconstruct the environment in which these ideas exist. More opportunities can be created when we all collectively start to think differently.
To speak to this month's global theme radical we're honoured to welcome Waubgeshig Rice to the CreativeMornings Ottawa stage. Pulling a few key themes from his most recent novel, Moon of the Crusted Snow, Waubgeshig will encourage you to quiet your mind and think about a few areas you're willing to shake things up. Together, let's create a more radically profound, kind, and welcoming world.
Waubgeshig is an author and journalist from Wasauksing First Nation on Georgian Bay. He has written three fiction titles, and his short stories and essays have been published in numerous anthologies. Moon of the Crusted Snow was published in 2018 and became a national bestseller. He graduated from Ryerson University's journalism program in 2002, and spent most of his journalism career with the Canadian Broadcasting Corporation as a video journalist, web writer, producer, and radio host. He left CBC in 2020 to focus on his literary career. He lives in Sudbury, Ontario with his wife and two sons.
Local partners
Additional details
CreativeMornings is a monthly breakfast lecture series for the creative community with chapters in over 200 cities around the world. Each month we host an event that is always on a Friday, always in the morning, and always free. We provide coffee, a light breakfast, a chance to connect with each-other and a 20-30 minute presentation from a local creative person on the global CreativeMornings theme for that month.
Event Schedule:
8:20 AM - Download Zoom, test features & get cozy
8:30 AM - Virtual doors open
8:35 AM - Welcome & CM intro
8:55 AM - Guest performance
9:00 AM - Speaker takes the virtual stage
9:30 AM - Q&A with speaker
9:45 AM - Closing remarks
9:55 AM - Final performance
10:00 AM - Exit Zoom app
How to join our virtual event:
Please register as you would normally and a few days before the event we will share out a Zoom link.
If you haven't used Zoom before, check out this link to learn how to join the call. We recommend joining in from a computer/laptop, but a tablet or phone will also work. You can also join a test meeting to familiarize yourself with Zoom.
Don't forget to download the Zoom app from the Download Center before joining the talk. Otherwise, you will be prompted to download and install Zoom when you click the join link (it can take some time).
About the theme:
"In the space of 'ideas' is where we can radically change systems," explains artist and cultural organizer Favianna Rodriguez. "And that is, how do we completely re-envision our society?"
Being radical can also be as simple as exercising a new level of hospitality and generosity. Entrepreneur and activist Tanya Torp shares, "It's radical when you let other people lead, and you get out of the way. I define radical hospitality as 'transformational connections through welcome.'"
Our San Diego chapter chose this month's exploration of Radical, Maheswari Janarthanan illustrated the theme, and Mailchimp is presenting the theme globally.
Location
Hosted at Online
The internet
World Wide Web, Canada
When
–