Vinod Rajasekaran
November 27, 8:30am - 10:00am EST. Hosted at Makerspace North
part of a series on Work
About the speaker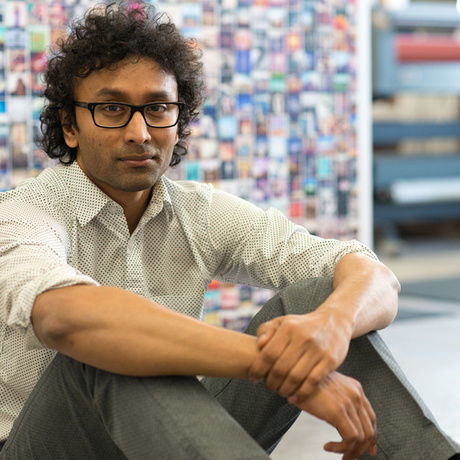 The world of work is changing, we are entering the age of innovation through collaboration. This means, in order for our organizations to thrive, we must radically shift the way we work, connect, learn and problem-solve.
As a youth immigrant to Canada, Vinod found it difficult to fit in so he volunteered a fair bit beginning around his 11th birthday. He quietly observed the strength of Canada's civil society but paradoxically wondered why the same people kept coming back to the Mission or why the Mission wasn't curious about this or that didn't do much more than serve meals. That wonder never left Vinod, but didn't transform into much, and got tucked away as he began his post-secondary studies in what at that time, Vinod thought would be his life – a career as an aerospace engineer.
Since his studies, Vinod's career path has taken him through aerospace engineering, international development, global education, public policy, social innovation, philanthropy, among others and across multiple sectors and continents. One of the core ideas that kept surfacing for Vinod is that we've had the age of innovation through invention, and now are entering the age of innovation through collaboration.
ABOUT VINOD RAJASEKARAN
Vinod is Lead Strategist of HUB Ottawa, a globally linked coworking community, learning academy and launchpad optimized for people, projects and organizations bettering the world. Powered by a 3,200 sq. ft. coworking and learning environment, The HUB brings together resources, relationships, inspiration and collaboration opportunities that help cover 300 members and organizations grow their impact every day.
We are built on the experience and success of 70+ Impact Hubs worldwide. This global member community celebrates 10 years of impact in 2015, and is now the fastest growing social innovation network in the world - sharing ideas, best practices, and support to help maximize each other's potential. Vinod believes the future of working, learning, and civic problem-solving is through collaboration.
Local partners
Additional details
We are also pleased to have Adam Smith, Vice President, Marketing and Communications for United Way Ottawa talk about a new mobile app called Small Change. (This will be a five minute presentation ahead of Vinod's chat).
Location
Hosted at Makerspace North
250 City Centre Ave, #216
Ottawa, ON Canada K1R 6K7
When November 27, 2015
8:30am - 10:00am