Stephen Schudlich on Taboo
March 24, 8:30am - 10:00am EDT. Hosted at Bamboo Detroit
part of a series on Taboo
About the speaker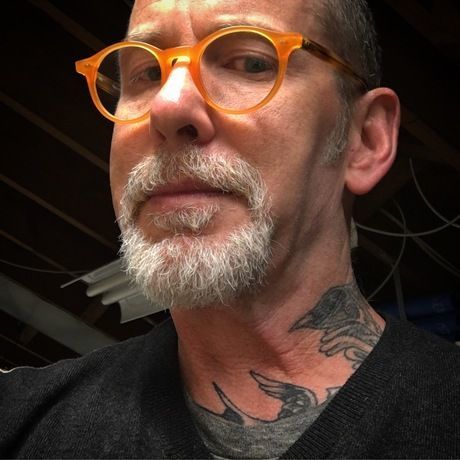 (b.1963) A fourth generation Detroiter, illustrator, designer, framer, educator, writer, and social zoologist, Stephen William Schudlich is the former Director of Exhibitions for the Penny W. Stamps School of Art & Design / University of Michigan. He has provided work for clients such as The New York Times, The Utne Reader, Comedy Central, The Chicago Tribune, The Atlantic, The Los Angeles Times, and Scholastic. He has also worked with WGBH (Boston), Heineken, and Nike. His illustrations have been an integral part of the global eBay brand and, he illustrated the book The Down-to-Earth Guide to Global Warming, which was published by Scholastic and co-authored by Cambria Gordon and Laurie David, the Oscar winning producer of An Inconvenient Truth. His work has been included in The New York Art Directors Annual, Print, How, and the AIGA Design Annual. It has been exhibited in numerous galleries including Gallery Project, The Elaine L. Jacob Gallery, DAM, The Scarab Club, Paint Creek Center for the Arts and, in The Old Federal Building as part of the inaugural ArtPrize event in Grand Rapids, MI. His work has found purchase within the collection of Valparaiso University as well as many private collections. It is also included in exhibition catalogues and anthologies including Black Eye, Black Eye 2, The Rotland Dreadfuls, and Morose Delectation published by Rotland Press/Detroit.
Stephen teaches graphic design/illustration in Detroit at the College for Creative Studies, as well as Wayne State University. In 2015, he and his son, Finn purchased the art framing works from a long time, family owned business. They opened it as FINNISHED.
Local partners
Bamboo builds flexible work spaces and community for entrepreneurs and creators. Founded in Detroit in 2013 by a team of entrepreneurs, we are on a mission to bring access to inspired growth to the world
Huge is a full service digital agency headquartered in Brooklyn with offices worldwide. We transform brands and build businesses. Huge opened an office in Detroit in late 2015 to provide digital design, business strategy, technology, and marketing services to companies operating in the Midwest United States and around the world. The office is part of a family of Huge offices in the US, Europe, Latin America and Asia.
There's healthy. There's tasty. Then there's healthy and tasty. At KIND, we believe you deserve both—we call it our brAND philosophy. That's why you'll find all of our snacks are pretty much the nirvana of healthful tastiness. What began with just 8 bar varieties in 2004 has grown to over 22 bars and 6 Healthy Grains snackable clusters, and a multitude of new recipes being perfected and refined to our standards in the KIND kitchen.
Additional details
As always—doors open at 8:30am with the talk beginning promptly at 9am. Our speakers are generally given 20-30 minutes with a bit of time afterwards for your questions and mingling!
Bamboo Detroit is on the 3rd floor of the Julian Madison building. Street parking is available as well as several nearby parking garages.
Location
Hosted at Bamboo Detroit
1420 Washington Blvd #301
Detroit, Michigan 48226
When March 24, 2017
8:30am - 10:00am