Sindiso Khumalo at Sanlam HmC
October 12, 12:00pm - 1:30pm SAST. Hosted at Sanlam Handmade Contemporary Fair
part of a series on Honesty
About the speaker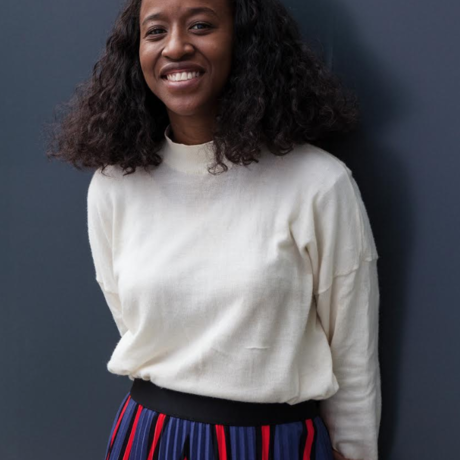 Sindiso Khumalo is a South African textile designer based in London and Cape Town. Central St Martins graduate, Khumalo, studied architecture at the University of Cape Town prior to moving to London to work for Sir David Adjaye. In London she went onto study a Masters in Textiles at Central St Martins College of Art and Design. Sindiso Khumalo founded her label with a focus on creating modern sustainable textiles with a strong emphasis on African story telling. She designs all the textiles in her collections herself by hand through watercolours and cut out collage. Over the years she has developed a uniquely colourful visual voice, which draws upon her Zulu heritage. Sustainability, craft and empowerment lie at the heart of the label. She works very closely with a NGO's and artisans in developing handmade textiles for her collections. In 2015, she won Vogue Italia "Who's On Next Dubai" competition. She been invited to speak on sustainable fashion at the United Nations and the European Union and collaborated with the United Nations Ethical Fashion Initiative (International Trade Centre) in making handwoven fabric from artisans in Burkina Faso. In October 2015, she was scouted by the Vogue Talents, and won the Vogue Italia 'Who is on Next Dubai'. She has presented on schedule at Milan Fashion Week, in 2018. She has showcased work at the Royal Festival Hall in London, The Smithsonian Museum of African Art in Washington and the Louisiana Museum in Denmark. Her work has been published in "Africa: Architecture, Culture and Identity", Vogue Italia, Vogue UK, Vogue Spain, Elle Magazine and Marie Claire Magazine.
Local partners
Additional details
October's theme is HONESTY
Honesty is the currency for connection. It's a gift we give to each other that strengthens bonds and deepens relationships.
Honesty is a practice where we start from the heart.
Being honest isn't always easy and being honest all of the time is impractical. Giving honest feedback or sharing our opinions requires sensitivity to the context and meeting others where they are—with kindness and empathy.
Honesty is about providing the information that you would want if you were in a similar situation.
Another way to look at honesty: it's a flower born out of the soil of trust, connection, and conversations. The more we nurture conversations that breed trust and forge a connection, the more honesty becomes baked into the way we lead our lives.
This month's global exploration of Honesty was chosen by our Cardiff chapter, and illustrated by James Lewis. Thank you to Mailchimp, Adobe, and WordPress.com for empowering the global creative community.
Please note - The tickets for Sanlam Handmade Contemporary Fair will be sold at the door for R150, BUT if you register for this CreativeMornings event, you will qualify for a special discounted price of R100/ticket to enter the event.
The first 10 people to sign up will receive their Sanlam HmC ticket for free!! So hurry up! Coffee and snacks are still on us!
Location
Hosted at Sanlam Handmade Contemporary Fair
Jan Smuts Ave & William Nicol Drive, Hyde Park
Johannesburg, Gauteng South Africa 2196
When October 12, 2018
12:00pm - 1:30pm