Sarah Gelbard
– Hosted at Online
part of a series on Divergent
About the speaker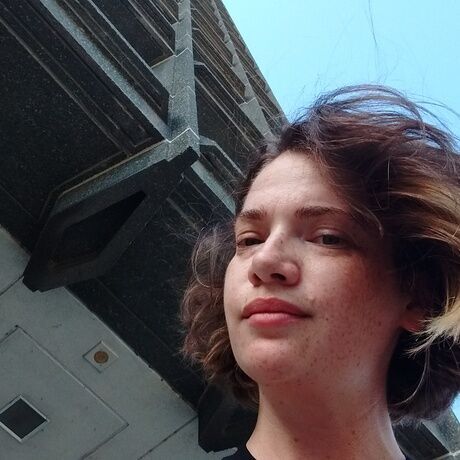 Join us on Friday, February 26 when Sarah Gelbard will speak on the theme Divergent, and more specifically, Divergent Cities.
Cities are places where people converge.
In the streets, in parks, in cafes, in workplaces, in schools, in arts and entertainment venues (at least before covid). This cosmopolitan ideal of "coming together" contributes to a city's vibrancy and also its democratic potential.
But this ideal risks erasing difference for sameness. For what is "normal." The many crises our cities face will not be resolved with more of the same. Maybe it's time to make space for divergent cities, divergent stories, and divergent plans.
Sarah Gelbard is part anarchitect, punk planner, and a Ph.D. candidate in Urban Planning at McGill University. Her research looks at community placemaking and place-based storytelling. [She studies conflicts between mainstream planning and the marginalized alternative urban groups who diverge from the normative public interests that shape city plans.*] Sarah is known for her Brutalist architecture walking tours, is the Ottawa editor of Spacing Magazine, and a former regular contributor to Centretown Buzz. Sarah is also the lead singer, songwriter, and bass player in the local Ottawa punk band Bad Missionary.
Local partners
Rebel.com believes in keeping the internet human. That's why everything they do is backed by kick-ass, award-winning, 24/7 customer support and a passionate community of people that are working to make the world a better place, one website at a time. Whether you're looking for web hosting, web design, or a great domain name, Rebel.com has all the tools you need to get online.
City Seltzer makes flavourful, refreshing and delicious seltzer water for everyone. All bubbles, no troubles. Find out more about their bubbles here.
Additional details
CreativeMornings is a monthly breakfast lecture series for the creative community with chapters in over 200 cities around the world. Each month we host an event that is always on a Friday, always in the morning, and always free. We provide coffee, a light breakfast, a chance to connect with each-other and a 20-30 minute presentation from a local creative person on the global CreativeMornings theme for that month.
Event Schedule:
8:20 AM - Download Zoom, test features & get cozy
8:30 AM - Virtual doors open
8:35 AM - Welcome & CM intro
8:55 AM - Guest performance by Sabaya
9:00 AM - Speaker takes the virtual stage
9:30 AM - Q&A with speaker
9:45 AM - Closing remarks
9:55 AM - Final performance
10:00 AM - Exit Zoom app
How to join our virtual event:
Please register as you would normally and a few days before the event we will share out a Zoom link.
If you haven't used Zoom before, check out this link to learn how to join the call. We recommend joining in from a computer/laptop, but a tablet or phone will also work. You can also join a test meeting to familiarize yourself with Zoom.
Don't forget to download the Zoom app from the Download Center before joining the talk. Otherwise, you will be prompted to download and install Zoom when you click the join link (it can take some time).
About the theme:
Technologist, author, and designer John Maeda explains, "A divergent thinker takes an idea and expands it. They look for new ways to connect it with other diverse things […] I'm in favor of a synthesis to connect the convergent and divergent."
As creators, builders, and thinkers, how can we get better at solving complex problems? A promising starting point is for us to be in the same spaces with those we've traditionally deemed different.
Moments of divergence can create beautiful futures when we are willing to leave space for change. Take a step back to reflect on what winds of change you want to welcome into your life today.
Our Valencia chapter chose this month's exploration of Divergent and Núria Tamarit illustrated it. Presented globally by our partner Basecamp / HEY.
Location
Hosted at Online
The internet
World Wide Web, Canada
When
–