Sandesh Raju
September 17, 9:30am - 11:00am IST. Hosted at Carrots
part of a series on Compassion
About the speaker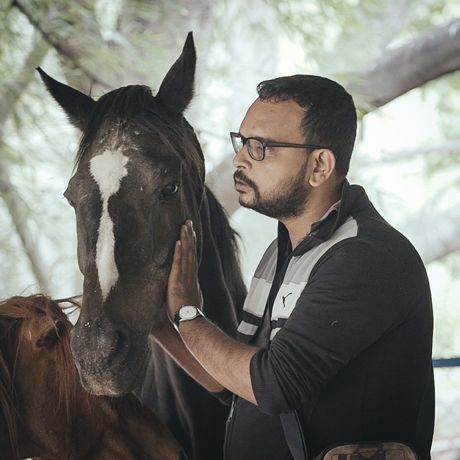 Sandesh is a Founder Trustee and Managing Trustee of SAMABHAVA. He has overseen the rescue and rehabilitation of each of the 54 ponies and horses the organization has taken in under its fold since 2010, and is still very much in-charge of ensuring Samabhava's 33 equines (present strength) live a life of dignity and freedom. Though mostly a freelance French translator since the inception of the organization, Sandesh returned to full-time work very recently, making it the second time he had to return to full-time work for financial reasons (for the organization).
A vegan since 2002, Sandesh has been active in the field of animal welfare for close to a decade now. His activism reached its peak when he was associated with the Blue Cross of Hyderabad (BCH) for three years. While he served the BCH as an Honorary Secretary for two years, he also had the opportunity to represent the BCH at AWBI as a member in 2005.
Local partners
Samabhava is a Non-Government and Non-Profit Organisation based on the principle that animals have some basic needs and desires as human beings, so they deserve equal respect like us, and we as well as our planet can be much better without using animals for food, wear and experimentation. SAMABHAVA works for the protection, well-being and welfare of animals, as well as towards creating awareness among people regarding the rights of animals to live in peace, health and dignity in the same manner as human beings. As an organisation, SAMABHAVA believes in equal respect to all, including animals and environment.
Carrots is India's first vegan fine dining restaurant. Offering a unique range of plant based food, taking inspirations from cuisines around the world.
As a part of our journey towards better health for better tomorrow, one of our goals is to collaborate with various organizations who share similar ideologies and work towards the greater good of welfare of humans. environment and all other living beings on Earth.
Facebook: https://www.facebook.com/CarrotsTheHealthyKitchen/
Instagram: https://www.instagram.com/carrotsrestaurant/
Youtube: https://www.youtube.com/c/carrotsbengaluru
Location
Hosted at Carrots
No. 607, First Floor, 80 Feet Road, Koramangala 6th Block, Bengaluru 560095
Bangalore, Karnataka 560095
When September 17, 2017
9:30am - 11:00am