Rose McGee
January 17, 8:30am - 10:00am CST. Hosted at Minneapolis College of Art and Design
part of a series on Roots
About the speaker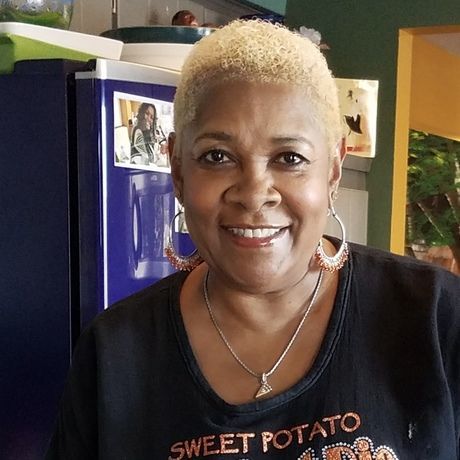 Rose McGee is creator of Sweet Potato Comfort Pie™: a catalyst for caring and building community. In 2014 during the racial disturbance in Ferguson, Missouri, she felt compelled to bake 30 pies, loaded them into her car and drove to Ferguson to offer comfort. Upon returning home to Golden Valley, she felt a deeper calling to get something done right here at home. As a result, Sweet Potato Comfort Pie has become a cornerstone service approach during the Martin Luther King, Jr. Holiday weekend when dozens of volunteers of all ages and ethnicities bake the number of pies Dr. King's age would have been and distribute them to individuals and organizations throughout the community as a symbol of concern and celebration.
Since Ferguson, Rose has led community volunteers in baking and delivering over 3,000 Sweet Potato Comfort Pies™ to places such as Mother Emanuel AME Church in Charleston, South Carolina where nine black worshippers were killed, to the water protectors at Standing Rock, to protesters, police officers, and families after the killings of Jamar Clark and Philando Castile, and most recently baked pies with students at the Heilicher Jewish Day School in St. Louis Park and delivered them to Pittsburgh, PA where 11 worshippers were killed at Tree of Life Synagogue.
Rose has been featured locally and nationally including USA Today, Huffington Post, the PBS documentary - A Few Good Pie Places, the national talk show – The Real, a TEDx Talk – The Power of Pie. Recent recognitions include receiving a Bush Fellowship, Minnesota 50 Over 50, two-time Charlie Awards nominee, Citizen of the Year in Golden Valley, MN where she resides, and the Bill Hobbs Human Rights Award. She was the cover feature in the November 2019 issue of Minnesota Good Age. In 2021 her children's book, Can't Nobody Make a Sweet Potato Pie Like Our Mama will be released by the Minnesota Historical Society Press.
Local partners
Additional details
What is the event like? CreativeMornings is about community and inspiration. Come for both! Check-in will begin at 8:30am and we'll have coffee and breakfast ready for you. Coffee time is great for meeting the other CreativeMornings attendees. The talk will start at 9 followed by Q&A. We like giving high-fives.
This Month's Theme: Roots This month's theme is Roots, chosen by CreativeMornings/Québec and illustrated by Félix Girard.
Parking? Those with cars are typically able to find free, unrestricted parking on the streets surrounding MCAD's campus. The college also has a parking lot located at the intersection of 26th Street East and Second Avenue South where you can park for $0.25/hour.
Questions? Please let us know if you have other questions about the event: minneapolis [at] creativemornings.com
Location