Rick Burress
– Hosted at ASU Art Museum, Nelson Fine Arts Center
part of a series on Education
About the speaker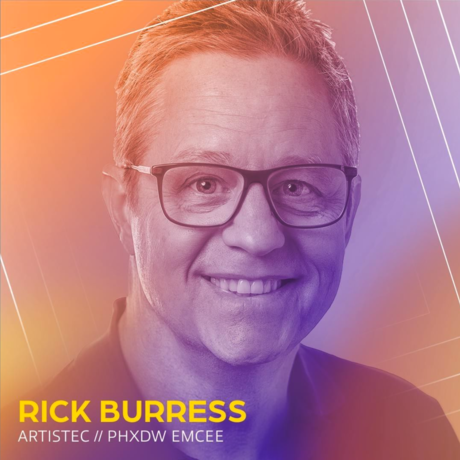 He knows your industry. He speaks your language. As one of the three original Apple-certified consultants nationally, Rick has been a part of the desktop publishing revolution since its inception, in 1987. He was asked by professionals in the print and graphic design communities to rewrite curricula to better meet the actual needs of industry in this evermore digital era. His three new courses helped earn the Scottsdale Community College Graphic Design team the coveted Frederick D. Kagy International Award for Excellence.
Local partners
AIGA advances design as a professional craft, strategic advantage and vital cultural force. As the largest community of design advocates, we bring together practitioners, enthusiasts, and patrons to amplify the voice of design and create the vision for a collective future. We define global standards and ethical practices, guide design education, enhance professional development, and make powerful tools and resources accessible to all. Formed in 1989, the Arizona chapter serves the graphic design community and those in related fields within the state of Arizona, and augments the activities of the national AIGA. The Arizona chapter presents several popular and well-attended industry events, including Say Anything, web 101 and the FilmBar film series. Our chapter has increased its demographic reach in recent years, with especially strong representation in Tucson and southern Arizona. Our student membership, the lifeblood of our organization, is growing and highly engaged, providing a continuum of representation from designers just starting out through the most seasoned professionals. The mission of AIGA Arizona is to bring programming to the design community which helps to improve design ability, connect complementary disciplines, encourage social impact and promote community excellence.
Named "the single most impressive venue for contemporary art in Arizona" by Art in America magazine, the ASU Art Museum is an integral part of the ASU Herberger Institute of Design and the Arts at Arizona State University. The inventive ASU Art Museum serves a diverse community of artists and audiences through innovative programming that is interdisciplinary, educational and relevant to life today.
Additional details
Rick's mantra is '5 minutes or less or you're working too hard.' Do you know how to do what you do daily in 5 minutes or less?
The event will be in the ASU Art Museum's Americas Gallery.
Location