Virtual
What are Virtual FieldTrips?
FieldTrips are meetups to interact, learn and collaborate in an effort to level-up your creative life. Built on top of our 20,000 monthly attendees at CreativeMornings talks, FieldTrips are community-organized events built on the spirit of generosity that has powered CreativeMornings events for the past 10 years.
Thanks for participating! We're lucky to have you.
Resource Your Creative Work Through Fellowships
July 2, 12:00pm - 1:00pm EDT. Hosted at FieldTrips on Zoom
About this FieldTrip
How can we utilize Fellowship programs to resource and fund our creative work?
In this session we will learn the fundamental building blocks that form the foundation for your fellowship application plan. Moreover, we will learn how to research opportunities and evaluate program "fit" - matching short and long-term creative goals to the time, space and possible funding that fellowships may provide.
Attendees will come to this session with their own creative project in mind, and leave the session with a clear, individualized action plan to fund and support their creative work through fellowships.
About your Host
Mi'Jan Celie Tho-Biaz, Ed.D., is an oral historian, restorative stortyeller and 2019-2020 Kennedy Center Citizen Artist Fellow & Encore Public Voices Fellow. As the founder and Director of the New Mexico Women of Color Nonprofit Leadership Initiative at the Santa Fe Community Foundation, she works with communities across the themes of sovereignty, transformation, healing and equity.
To say this historian's own history is distinguished is an understatement: Mi'Jan designed and led the Steinem Initiative's public policy digital storytelling pilot at Smith College, was a visiting scholar at the Interdisciplinary Center for Innovative Theory and Empirics at Columbia University, and served as a New Mexico Humanities Council Scholar.
Mi'Jan is also a public speaker, represented by FRESH Speakers alongside luminaries like Alicia Garza, Ai-jen Poo and Brittney Cooper. She graces audiences with her visionary, story-rich talks at a range of institutions, from Carnegie Hall to the Institute of American Indian Arts, to SXSW. Her goal? To make the historical contemporary and personal, while surfacing the marginalized stories that need to be heard.
Organizer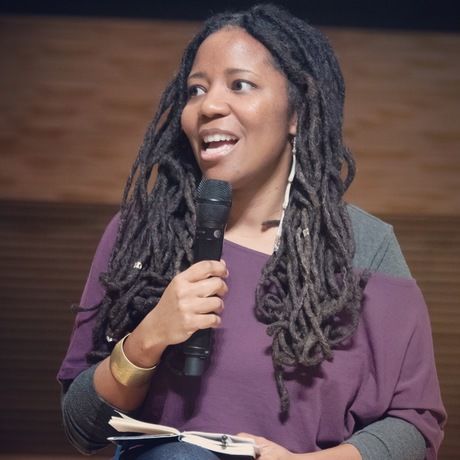 MI'JAN CELIE THO-BIAZ
Location
Hosted at FieldTrips on Zoom
Zoom
Brooklyn, NY United States
When July 2, 2020
12:00pm - 1:00pm