缺乏創意點子嗎?企劃書寫不出來?設計品一直被退回?你以為的創意但卻無法獲得認同?「暑假,我的下半場冒險」,蕭老師將透過一個小時的早餐交流時光,與大家分享如何透過觀察,將生活中Weird奇特的事情轉化為設計理念及靈感,協助大家提升創意、創新質量,並用創意陶冶自身心靈,增進生活品質。
About the speaker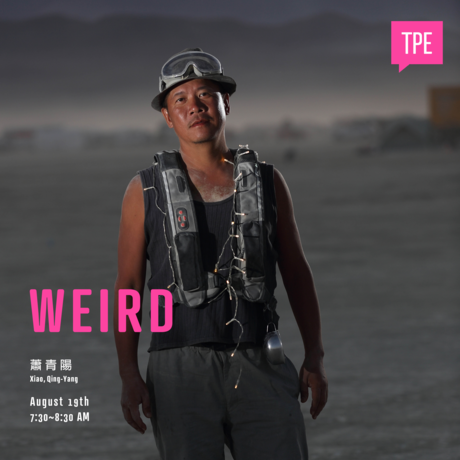 蕭青陽 : 「不害怕,就是夢想不夠大!」在台灣,蕭青陽絕對是設計包裝界的第一把交椅。在國際上,蕭青陽則是第一位華人入圍葛萊美唱片包裝獎,還破天荒五年入圍四次,其中《故事島》自2010年發行以來,已經獲得德國紅點設計大獎等獎項,甚至被德國紅點博物館永久典藏。
蕭青陽18歲開始設計唱片,至2016年已累積上千張唱片作品。但在入行初期,曾因替主流唱片歌手設計唱片而失去創作樂趣,而自立工作室,但一年卻只接到一個案子;為了維持生計,甚至轉行賣自助餐。然而到另一個領域,他才更清楚自己多麼喜歡設計,因此一年後他又重回唱片設計圈。就算環境艱難,他還是繼續奮鬥打拼,在唱片設計界持續發光發熱,讓世界看見台灣。
We're glad to invite renowned album cover designer and four-time Grammy Award nominee Xiao Qing-Yang as our speaker to present the theme "Weird." Locally, Xiao Qing-Yang is one of the best package designers in Taiwan. Internationally, he is the first Chinese-speaking designer who was nominated for 4 times by Grammy Award for Best Recording Package in just five years. Among these awing pieces, Story Island, has been awarded by Best of the Best in Red Dot Design; moreover, it is collected by Museums abroad as well.
Xiao, started his career as record designer at age 18, and thousands of record packages were published during his 28-year work experience. However, in the beginning, he felt frustrated by serving pop singers, and discovered to decrease pleasure in design. Thus, he founded his own studio under poor condition that he only had one case in an year. In order to make a living, he once worked in a restaurant. It was not until he changed his path did he realized how much he love DESIGN. As a result, he went back to record design after one year. Despite the difficult environment, Xiao managed to continuously strive and shine in the industry of record design, making the world see the potential of Taiwanese design.
Favorite quotes from this talk
No quotes yet. Sign in to tag a quote!
61

Lovely Attendees







see everyone