Moran Kliger
July 19, 8:30am - 10:00am IDT. Hosted at Edmond de Rothschild Center
part of a series on Intention
About the speaker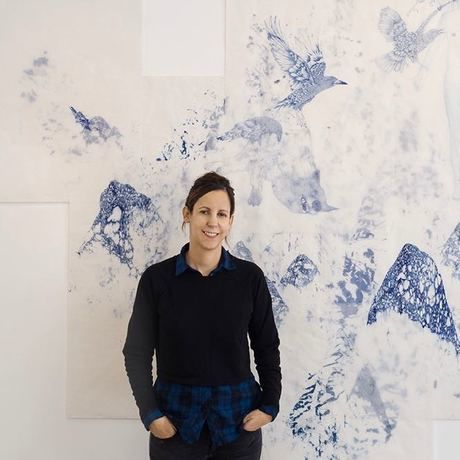 Moran Kliger is an artist who lives and works in Tel Aviv.
Her body of work is based mostly on figurative, narrative drawings. It consists of series created in different techniques, usually sprawled over a wide working area and mainly composed of thin lines that acquire an emotional charge due to their seemingly graphic, illustrative, neutral, and pathos-free appearance.
Her works engage with the tension between the domesticated element and the wild and dark element within the human psyche. Through the use of motifs associated with raw nature and fantastical elements, she tries to explore the relationship between these two contradictory components in the definition of the human. The works are created in manual, painstaking, and sometimes even regimented labor that gives shape to issues that touch on urges and desires.
Her work has been exhibited internationally in solo and group exhibitions including the Tel Aviv Museum of Art (2018), Basis Gallery, Herzeliya (2018), OpenArt Biennale, Örebro, Sweden (2017), and more. Her pieces can be found in private collections including Art Partners Collection, managed by Gil Brandes, the Dubi Shiff Art Collection, and others.
She holds a BA with honors from the Faculty of Design and Art, Shenkar (2007) and a Masters in Fine Arts from Hamidrasha, Beit Berl College (2013).
Come hear her story.
Additional details
Thursday July 19: Join us for a magical morning with Moran Kliger, on the theme of #CMIntention.
Tickets are FREE but space is limited so be sure to click 'register' above and grab your ticket. Great coffee and cold brew by Nahat, tasty treats and mingling from 830am. Moran's talk is in HEBREW and will start at 9am SHARP. And you're off to work by 10am.
Parking: The closest Irya Tel Aviv parking are Habima or opposite Yehuda Levi 79 / Delicatessen. Both are a 5min walk to the venue.
Special thanks to the generous humans at Wix.com for making our events possible and the Edmund de Rothschild Center for hosting us! Looking forward to seeing you there, Team CMTLV
PS "But I have work" is not a good enough excuse. Here's what to say to your boss.
PPS 830am?! #notamorningperson? Neither is half of the team…plus, there's coffee ;)
Location