Michael Kaufmann talks on creating for the spectrum, not the mean.
About the speaker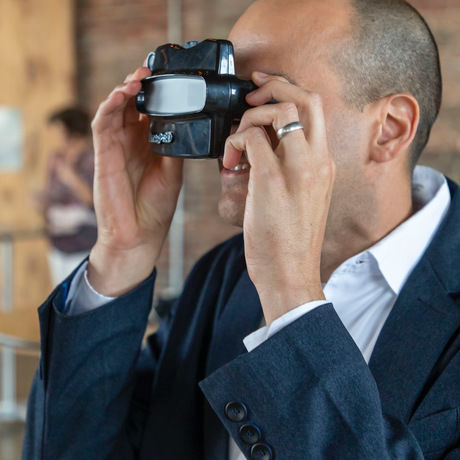 Michael Kaufmann has a rich history of artist management, cultural entrepreneurship and city-building. He works to empower others to create and experience surprising beauty. He operates at the intersection of cultural, economic and community development.
Michael graduated magna cum laude from Bucknell University with a bachelors in art theory. He did his graduate work at San Jose State University where he graduated summa cum laude with a masters in library and information science. Michael has worked as a film archivist for the New York Public Library, a project manager for Indiana Humanities, and worked for over a decade as label manager for Asthmatic Kitty Records (Sufjan Stevens, My Brightest Diamond, etc.). He currently works for the Health & Hospital Corporation in his role as director of special projects and civic investment, having spent the last four years supporting art and design, ecology and equitable livability initiatives for Eskenazi Health. He recently served as the Connect Indy project manager as part of Plan 2020 (Indianapolis Bicentennial Plan), and in Fall of 2015 will begin to work with the Central Indiana Community Foundation and Indy Chamber to develop a strategic plan for the cultural economies of Indianapolis.
Michael serves on the boards of VSA Indiana, Indianapolis Parks Foundation, Indiana Sports Corp President's Council and co-chair's Local Initiatives Support Corporation's Great Places 2020 steering committee. He helped the formation of the Indy Food Council, recently serving as board president. Additionally he has served on the boards of Butler University's Center for Urban Ecology, Indiana Recycling Coalition, Latino Youth Collective, IndyHub, IUPUI's Center for Urban Health, Indianapolis Museum of Art's Contemporary Arts Society, Spirit and Place, and the Reconnecting to Our Waterways Initiative. He is a member of the Indianapolis cluster of CEOs for Cities and served as the Multimodal Transportation Advisory Committee Chair for Indianapolis Downtown Inc.'s Velocity plan.
Michael facilitated a unique partnership between the Indianapolis Symphony Orchestra and New Amsterdam to bring new music to his city. Michael is also the co-founder of the 1828 Project, a program for emerging non-traditional leaders between the ages of 18 and 28. Additionally he is a co-founder of We Are City, a series of programs that examined challenges and rewards city living, including a twice-weekly email and residency series, importing smart and diverse city builders from other cities to Indianapolis.
He is a recent recipient of Indianapolis Business Journal's Forty Under 40 and was part class XXXVII of Stanley K. Lacy Executive Leadership Series. He is a member of the 2014 Next City's Vanguard, which recognizes the best and the brightest of young urban leaders. He is married to the wonderfully talented singer-poet Liz Janes and is the father of two boys of unhinged creativity and joy.
Favorite quotes from this talk See all
"

This led me to a desire not to live a life of art, but to rather artfully live. — Michael Kaufmann
"

Empathy flattens oppressive paradigms. — Michael Kaufmann
"

How do we move beyond courteous hospitality to courageous inclusivity? — Michael Kaufmann
"

Design for the spectrum and not the mean. — Michael Kaufmann
"

The point isn't to erase differences... rather it's to lay a vertical hierarchy on its side. — Michael Kaufmann
220

Lovely Attendees






see everyone