Lonebot
February 22, 8:30am - 10:00am IST. Hosted at Edmond de Rothschild Center
part of a series on Curiosity
About the speaker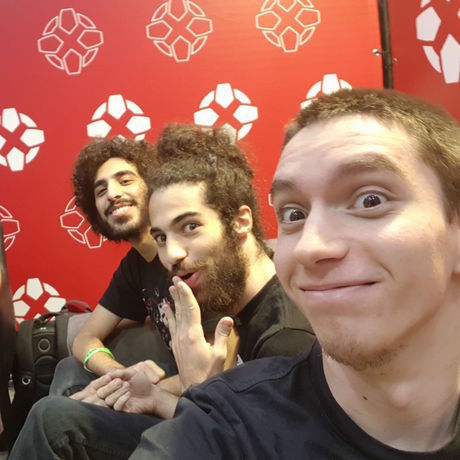 Lonebot is a small indie game studio run by three friends: Yotam Frid (21), and brothers Itamar and Mati Ernst (23, 20). It has been active for over a decade. (Yes, they started when they were 11, 13 and 9 year old).
Regular participates in game jams (hackathons), Lonebot has received various awards for games developed during these events including several regional "Game of the Year" awards from GameIS events. Their 2015 LudumDare game "Monstre De Coiffure" ranks #4 globally.
This year Lonebot has released "INFINIROOM" - their first mobile game on both Apple and Android devices. The game has received popular acclaim, and was featured on Apple.
Find their games here
Local partners
Wix has everything you need to create your own stunning website for free. No creative limits, no coding - just the freedom to express yourself and manage your business online. Wix was founded on the belief that everyone should be able to develop, create and contribute online. Join the 87 million users around the world who choose to create stunning websites with Wix.
The Center hosts cultural events, exhibitions and lectures in the fields of art and science. It encourages original, innovative Israeli art, with multidimensional explorations and productive dialogue, pertaining to the fascinating cultural fabric created by Israel's dynamic society.
Coffee salon & roastery, Nahat offers several blends & single origin specialty coffee brewed in various methods. The cafe serves freshly baked goods and more. Come taste our coffee at CreativeMorningsTLV and visit our cafe on 1 Reines St, off Kikar Dizengoff, Tel Aviv.
Additional details
Thursday 22nd February:Join us for an inspiring morning with Yotam Frid Itamar and Mati Ernst, the gamers behind Lonebot, on the theme of #CMCuriosity.Tickets are FREE but space is limited so be sure to click 'register' above and grab your ticket. Great coffee by Nahat, tasty treats and mingling from 830am…Their talk is in HEBREW and will start at 9am SHARP. And you're off to work by 10am.Parking: The closest Irya Tel Aviv parking are Habima or opposite Yehuda Levi 79 / Delicatessen. Both are a 5min walk to the venue.Special thanks to the generous humans at Wix.com for making our events possible and the Edmund de Rothschild Center for hosting us! Looking forward to seeing you there,Team CMTLVPS "But I have work" is not a good enough excuse. Here's what to say to your boss.PPS 830am?! #notamorningperson? Neither is half of the team…plus, there's coffee ;)
Location