Lisa Bardot via CM Sacramento
– Hosted at Gibsons Tapworks
part of a series on Courage
About the speaker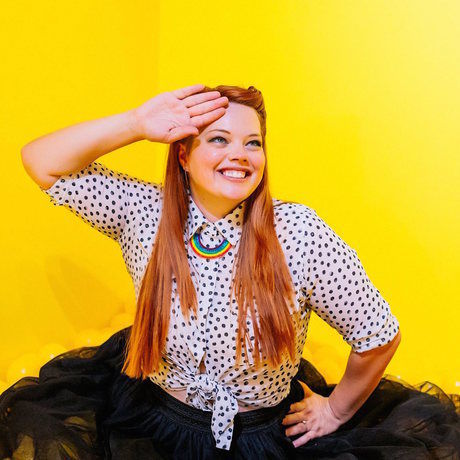 Lisa Bardot is an artist/creative maven/self-proclaimed-jack-of-all-trades-master-of-fun. Her mission in all her creative endeavors is to bring cheer, color, and playfulness into the lives of her customers and clients. She works in a number of creative fields including painting, illustration, photography, graphic design, woodworking, printmaking, ceramics, sewing, textiles, and more she's probably forgetting right now.
Lisa is native resident of Sacramento, California. She earned degrees in Graphic Design and Photography at Sacramento State. She has been running her wedding photography and design business, The Goodness, with her husband for the past decade, and she spends any spare time developing her career as an artist. In her most recent work, she explores and promotes self-development and vulnerability through her art. She has grown to appreciate the fact that some people think she is crazy.
And when she's not making things, Lisa likes to indulge long romantic walks through IKEA, making up songs for her two kids, and dipping french fries in ice cream.
Visit her at hellobardot.com or thegoodness.com to learn more.
Local partners
Protecting what is most important to you; we are your one-shop for insurance needs. We take a holistic approach to deliver personalized service that goes beyond the purchase of your policy. We offer Life, Health, Wealth, Home, Auto, Commercial and Travel insurance. We have a strategic alliance with the Sunshine Coast Credit Union and as such can offer added benefits to credit union members. Drop by to meet us today! Located across from the Blackfish Pub on Gibsons Way.
We are Gibsons Tapworks: a microbrewery that aims to build a reflection of our coastal community, in the beer we serve and the company we keep. We inspire a social connection by sharing our passion for unique, high quality craft beer. Our space is a place for the community to gather. We promise to provide genuine products that are easy to drink and embrace our coastal lifestyle.
Additional details
For this month's event, we're taking a trip to Sacramento, California. We'll be meeting to connect in person, and live-streaming into Sacramento's event to see their talk.
Doors and check-in at 8:30. Talk starts at 8:50. We look forward to seeing you there!!
Location
Hosted at Gibsons Tapworks
537 Cruice Lane
Gibsons, British Columbia Canada V0N 1V9
When
–