Linda Samost
August 24, 8:30am - 10:00am EDT. Hosted at FS Investments
part of a series on Community
About the speaker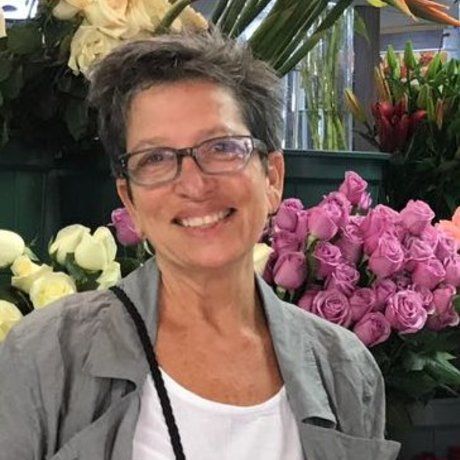 Linda Samost is the Founder and Director of Sunday Suppers which uses food, education, and community-building to strengthen the health and wellbeing of families experiencing poverty and food insecurity.
From an early age, cooking was central to Linda's identity; she prepared meals for her family starting at the age of eight, and began catering on her own when she was in high school. Her style of cooking emphasizes fresh, seasonal ingredients that are prepared simply. Linda worked as a chef in some of Philadelphia's most well-respected restaurants for more than five years and then started a small catering business of her own while she attended graduate school.
Prior to starting Sunday Suppers in 2010, Linda worked in the healthcare nonprofit world for more than 20 years, providing program development and evaluation, strategic planning, community engagement and collaboration for the Health Federation of Philadelphia, PA AIDS Education & Training Center, and others. Across her work, she focused on how best to provide high quality services that are tailored to the specific needs of the communities they serve.
It was these experiences – cooking and running her own food-focused business and working to improve the health and wellbeing of at-risk and vulnerable populations – that set the stage for the creation of Sunday Suppers.
Linda is a passionate, committed, and rigorous leader who maintains a flexible and responsive manner in her approach to her work. A native Philadelphian, Linda has maintained a deep awareness of inequality from a very early age and has acted to address this in small and large ways throughout her life. One of her core beliefs is that regardless of income, neighborhood or culture, everyone is entitled to adequate, affordable and healthy food – this is basis on which she created Sunday Suppers and is central to its mission.
Local partners
Described by POLITICO Magazine as "the coolest shipyard in America" and by Urban Land Institute as "one of the most successful office/industrial master-planned redevelopments in U.S. history," the Navy Yard is a 1,200-acre thriving waterfront community, with 7.5 million square feet of real estate in a mix of historic buildings and LEED® certified new construction oriented around world-class open space. More than $1 billion of public and private funding has been invested into the campus since the base closure, attracting over 150 companies employing more than 13,500 workers. At full build-out, the Navy Yard will support up 20 million square feet of development, 30,000 people, and over $3 billion of private investment. Get connected with the Navy Yard. Website: navyyard.org Facebook: @TheNavyYard Twitter: @navyyardphila Instagram: @navyyardphila
FS Investments helps investors design better portfolios. Our thoughtfully designed solutions combine differentiated strategies, top institutional managers and investment structures tailored to our investors' needs. We focus on setting industry standards for investor protection, education and transparency. Today we manage a growing suite of funds designed for financial advisors, individuals and institutions to achieve a variety of financial goals. Get connected with FS Investments. Website: www.fsinvestments.com Twitter: @fsinvestments
Additional details
Sunday Suppers believes in that the families living in impoverished communities are the experts in their own experiences. From that place, our program was developed by incorporating the needs, voices and experiences of those we serve and removing as many barriers as possible to leading healthier, fuller lives. Sunday Suppers creates a safe, supportive community, maximizing program impact while addressing the connections between food, health, and environment.
Linda's talk will cover the role of community in the development of Sunday Suppers, an overview of our comprehensive family-based approach to food, nutrition and health, how families have incorporated what they have learned to enhance their health and well-being, and graduates as the next leaders of Sunday Suppers
Location
Hosted at FS Investments
201 Rouse Boulevard
Philadelphia, Pennsylvania 19112
When August 24, 2018
8:30am - 10:00am