Les Bruning
July 13, 8:00am - 9:30am CDT. Hosted at Hot Shops Art Center
part of a series on Intention
About the speaker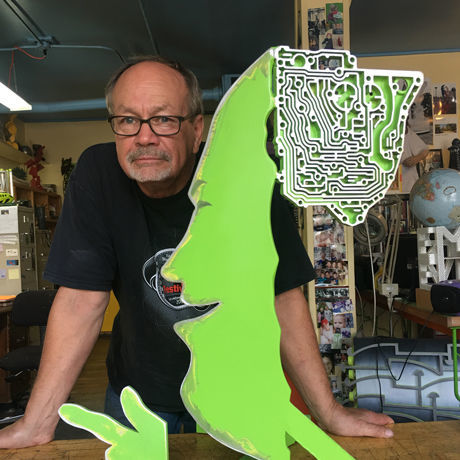 Almost everything we do in life is an intention. Frequently, it has negative connotations referring to the life experiences that we have not accomplished but maybe feel guilty at our lack of achievement.
My creative journey for the past fifty years has allowed me to meet numerous fascinating creative beings, travel to exciting places in many countries, and achieve creative opportunities far beyond what my young mind would have thought possible or even desirable. My creative intentions have driven my whole career mainly because these intentions were always open ended.
They did not require a goal; they required a journey.
Local partners
Additional details
Leslie Bruning has been an active creative artist for over forty years. He received a BA Degree in Art from Nebraska Wesleyan University in 1970, studied at Graz Center, Austria and an MFA Degree in Sculpture from Syracuse University in 1972. He served as Professor of Art in Bellevue University from 1973 to 2011. He is a founding member and a partner in the Hot Shops Art Center, Omaha, NE. He is also the owner of Bruning Sculpture, Inc., and a mold making, casting and fabrication studio that has artist clients across the country. He is a founding member of Omaha Creative Institute.
Bruning is an active participant, advocate, and organizer of Public Art Projects. He was a member of the J. Doe Project in Omaha and created the J. Doe form. He was a participant in Chicago's Navy Pier exhibitions in 1998 and 1999 as well as numerous Chicago Sculpture Exhibits and Chicago's Art in the Parks shows, Omaha's O! Art Project, and many other public art projects throughout the Midwest.
Bruning has had over 45 solo shows, over 130 group or juried exhibitions, and completed more that forty sculpture commissions beginning in 1969. He is represented in numerous collections and sculpture parks across the country. Commissions include O' Dude, a 25 feet constructivist figure on the Chamber of Commerce Plaza, Omaha and Vessel, a 42 feet tall sculpture at the BCBS Building in Omaha.
ARTIST STATEMENT Like many sculptors, past and present, Bruning works in a variety of series composed of closely related forms and ideas. One of these is Street Conversations, which usually involves themes of people meeting in public areas, reflecting their interaction. Frequently, the sculpture use perforated metals with translucent qualities further enhanced by active LED lights, mechanical movement, and sound.
The most recent new pieces, named Vector Series, uses four carefully defined linear forms that fit in a rectangular format, two which have straight edge architectural qualities and two that have curved organic qualities. Two to four of these forms are placed on a circular base enabling Bruning to create a multitude of fairly simple pieces. These pieces rely on a balance of positive and negative forms that flows with dynamic changing patterns as the viewer moves around the piece. This interaction is further enhanced by a limited use of color; usually lime green, that compliments the use of sparking stainless steel.
Location
Hosted at Hot Shops Art Center
1301 Nicholas
Omaha, Nebraska 68102
When July 13, 2018
8:00am - 9:30am