Josh McJannett
February 28, 8:30am - 10:00am EST. Hosted at Ottawa Art Gallery
part of a series on Invest
About the speaker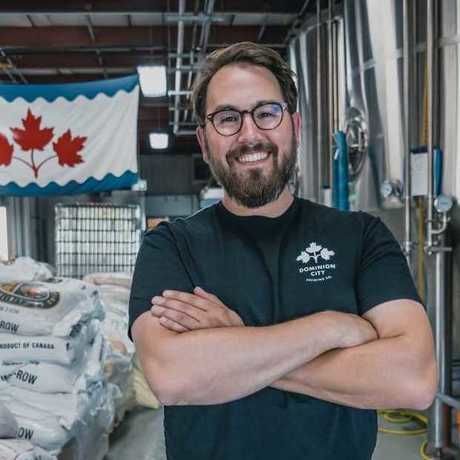 Join us welcoming Josh McJannett, Co-Founder of Ottawa's own Dominion City Brewing Co. to speak on this month's global theme of invest.
Investing isn't solely a monetary action. Invest, in a grander sense, comes down to the importance of devoting time and effort into what brings the most richness in your life. So what are the effects of investing in yourself, in your community, and in your future? The actions you make today impact future generations, and it's important to set them up for success by investing in your best interests.
Before co-founding Dominion City, Josh spent a decade in public affairs advising elected officials and providing strategic and regulatory counsel to some of Canada's best-known companies.
Dominion City offers a golden opportunity to invest right back into the community it's rooted in. Founded in 2014, with a mission to create delicious artisanal beer emphasizing a connection with the land and the people who make it possible.
Over the last five years, Dominion City has earned a reputation for brewing quality beer, operating as a caring and contributing member of their community and acting as a leading voice in Ontario's craft beer community.
What started as a place to brew great beer became a place for a much deeper contribution; Dominion City stands acts as a soapbox to bring awareness to their values, and to the causes that bring future 'richness'.
Local partners
Additional details
CreativeMornings is a monthly breakfast lecture series for the creative community with chapters in over 200 cities around the world. Each month we host an event that is always on a Friday, always in the morning, and always free. We provide coffee, a light breakfast, and a 20-30 minute presentation from a local creative person on the global CreativeMornings theme for that month.
Event Schedule:
8:30 AM - Doors open
8:30 - 9 AM - Check in, enjoy breakfast
9:00 AM - Talk begins
9:10 AM Speaker takes the stage.
9:45 AM Q&A with speaker
9:50 AM Closing remarks.
9:55 AM Audience takes the stage!
10:00 AM Off to work!
About the theme:
Every day we give our time, resources, and energy to the world through our decisions. We might read certain books, join a new community, or pick up a hobby. And whether we acknowledge it or not, every choice we make is an investment either for or against ourselves.
Wise investing requires patience and awareness. It's an art that combines our knowledge from past experiences with future aspirations to inform where we'll put our energy and our heart. To live a sustainable creative life requires us to say 'yes' to the choices that bring richness into our lives, even when it seems risky.
In the Investment Theory of Creativity, psychologist Robert J. Sternberg discovered: "The greatest obstacle to creativity […] is not exactly strictures from others, but rather the limitations one places on one's own thinking."
Take this opportunity to diversify your dreams. Convert your doubts into positive currency and bet on yourself. Without a doubt, you'll see a worthwhile return.
Our Hong Kong chapter chose this month's exploration of Invest and Bao Ho illustrated the theme.
Accessibility: Venue is fully accessible. If you require any additional help or have suggestions as to how we could make our events more inclusive, please give us a shout ottawa@creativemornings.com!
Para Transpo drop-off entrance: 10 Daly Avenue, Ottawa, ON, K1N 6E2. The Daly entrance is between Waller and Nicholas on the south side. The gallery's large glass double doors are recessed from the street.
Parking: Street metered parking is available (check hourly limits) in the nearby Sandy Hill residential area.
Other paid parking options include: Le Germain Hotel parkade (Level P1), Novotel parkade (Entrance: 3 Daly Avenue) and the Rideau Centre parkade (Entrance: 80 Nicholas Street or 5 Daly Avenue).
Public Transit: For those taking OC Transpo, get off at Mackenzie King Bridge, walk east towards Ottawa U. The gallery is on the same side of the street as the Rideau Centre mall, at the northwest corner of Mackenzie King and Waller. The gallery's entrance is recessed from the street with an LED sign out front.
Location
Hosted at Ottawa Art Gallery
10 Daly Avenue
Ottawa, Ontario Canada K1N 0C5
When February 28, 2020
8:30am - 10:00am