John Jackson
December 14, 8:30am - 10:00am GMT. Hosted at The Fruitmarket Gallery
part of a series on Tradition
About the speaker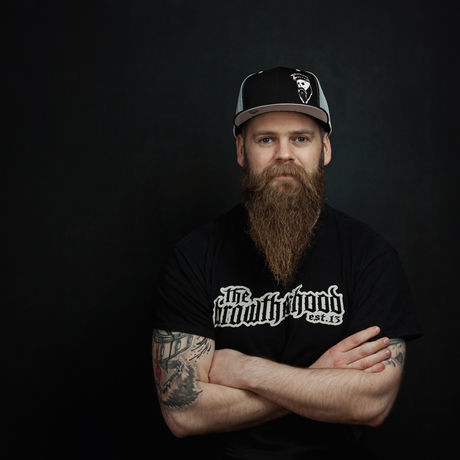 From a broken back to a leading beard care brand.
In 2011, rehabilitation led John to study sports massage therapy. He started making massage oils, then hair oil, then beard oil. Since then, Braw Beard has gained fans worldwide whilst supporting athletes, musicians and personalities. It's been a rollercoaster story so far, he experienced the lowest point, then one of the highest points of his life within 24hrs.
In this talk, John will take us through the Braw Beard journey so far. He will explain why maintaining tradition has always been at the core of his brand.
Local partners
FreeAgent is award-winning online accounting software that's designed for the way small businesses work. More than 90,000 freelancers and small business owners use FreeAgent every day to track time against projects, raise invoices, file tax returns and just get on with the work they love - not the paperwork.
BRINGING BROSS BAGELS TO EDINBURGH. Instead of complaining about the lack of bagels this country has to offer – founder Larah Bross decided to do something about it. Working closely with local initiative Breadshare, Bross Bagels aims to bring authentic bagels to Edinburgh and beyond. Our rustic bagels are available to buy by the dozen or filled with some NY deli inspired fillings from our shop in Portobello and Leith.
The Fruitmarket Gallery brings to Scotland the work of some of the world's most important artists, recognising that art can change lives and they offer an intimate encounter with art for free. Making exhibitions, commissions and publications directly in collaboration with artists. Celebrating new thinking, and offering an international platform for artists, curators and writers, whether they have made their reputation here or abroad. The Fruitmarket Gallery welcomes all audiences. Making it easy for everyone to engage with art, encouraging questions and supporting debate.
Additional details
Back by popular demand: Get Yer Ugly Jumpers Oot ☃️ For Festive Traditions' sakes!
A long-standing, treasured tradition of the CMEdi community is revived once more, as we call on you to dig out your boldest, brightest festive jumpers for Friday's event.
Yes, there will be a prize!
But, best of all, you will be memorialised as one who went all out, in the name of CMEdi community cheer!
Location
Hosted at The Fruitmarket Gallery
45 Market Street
Edinburgh, Scotland United Kingdom EH1 1DF
When December 14, 2018
8:30am - 10:00am