Hadiya Roderique
December 15, 8:30am - 10:00am EST. Hosted at Design Exchange
part of a series on Context
About the speaker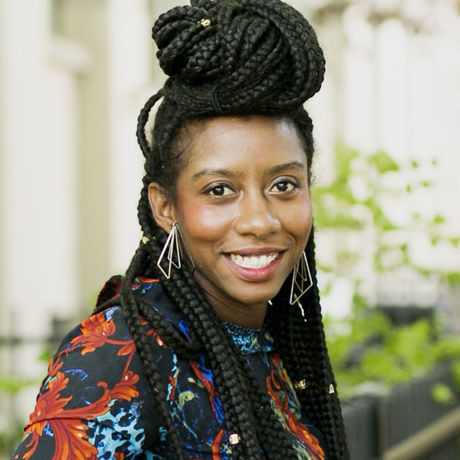 Hadiya Roderique is a lawyer, journalist, host of the politics podcast Commons, consultant and researcher, whose research focuses on gender and racial equality in leadership and the workplace. A former labour, employment and human rights lawyer at a large Bay Street firm, she has bylines in The Walrus, This Magazine, and The Globe and Mail.
Local partners
Venue Partner - Design Exchange
Design Exchange, is Canada's only museum dedicated exclusively to the pursuit of design excellence and preservation of design heritage. At the crossroads of multiple disciplines, from furniture and architecture to graphics and fashion, our exhibitions, talks, workshops, and youth education programs are curated to reflect the popular zeitgeist and contemporary culture while demonstrating the relevance and importance of design to everyday life. They are committed to delivering accessible design experiences and education and aim to provide the tools necessary to connect design learning to the ordinary and extraordinary.
Printing Partner - PrintNGOriginally from Newfoundland, Nola Grimes brought her passion for art and creativity to the printing industry over 20 years ago and has been managing all types of print projects for a diverse group of clients ever since. She enjoys working with designers and being part of the creative process. Over the years, Nola has built relationships with a network of suppliers and can produce everything from small postcard orders to catalogs and signage. Whether the project is simple, with a tight budget or more complex, with embossing and other special effects, Nola can help you meet your objectives and treats every order with equal care.
Accessibility Partner - The Forward Movement
The Forward Movement is an accessibility awareness and advocacy campaign working to get Ontario to adopt the use of the Dynamic Symbol of Access as an alternative to the currently used symbol. The Dynamic Symbol is an improvement to the old symbol in two major ways: (i) the person in the new image is more defined than the one in the old image, and (ii) the new image shows movement, a symbolic action that emphasizes differing abilities, and this reframes the way society views and interacts with people with a disability. The new symbol is also meant to spark conversations to educate the Ontarians about the importance of removing barriers—both physical and cultural—to make Ontario more accessible and inclusive for everyone.
Additional details
Theme
December's theme, CONTEXT, was chosen by our Minneapolis chapter Illustrated by David Schwen


Location
Hosted at Design Exchange
234 BAY ST
Toronto,, Ontario Canada M5K 1B2
When December 15, 2017
8:30am - 10:00am