Haas&Hahn
– Hosted at Biblioteca Parque Estadual
part of a series on Color
About the speaker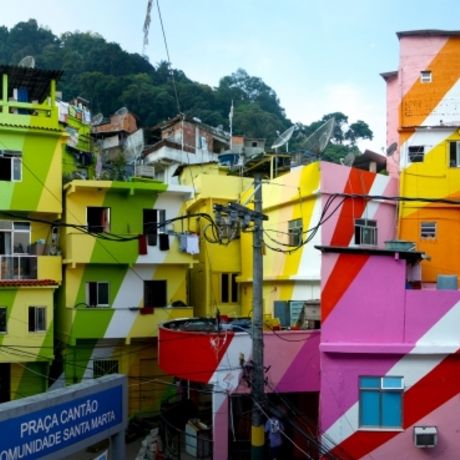 The Favela Painting project started in 2005 when Dutch artists Haas & Hahn (Jeroen Koolhaas and Dre Urhahn) had the idea of creating public artworks in favelas in Rio de Janeiro. Not just to beautify, but also to create a dialogue with their surroundings. After several successful projects, the image of a square painted in a design of radiating colors yielded worldwide fame and transformed Rio into 'one of the world's 10 most colorful places', according to CNN. Haas & Hahn were invited to show their work at the New York based gallery Storefront for Art & Architecture, followed by an invitation from the Philadelphia Mural Arts program to paint several complete blocks in a dilapidated area in North Philly. The artists get invited worldwide to teach, to speak about their work, consult cities on community art projects and look at possible locations for future projects. They have recently restored their first painting in Rio and are currently planning a grand return to paint an entire favela.
Local partners
A BPE foi criada para oferecer a você um acervo de mais de 200 mil livros de ficção e não-ficção, livros de arte, quadrinhos, biblioteca infantil, 20 mil filmes, três milhões de músicas digitalizadas. A biblioteca promove também experiências únicas com oficinas, laboratórios, plataformas multimídia e uma diversidade de linguagens artísticas. A Biblioteca Parque Estadual está aberta de terça a domingo das 10h às 20h, para um público estimado em 1.5 milhão por ano. Ela será um ponto de encontro da comunidade, um lugar acessível onde se estimula a leitura, a construção de saberes, onde são desenvolvidas produções artísticas.
Additional details
Haas&Hahn will be presenting their own using of color and the relationship with the city, especially involving the Favela Painting project.
Albeit running a little late with our schedule, we thought it would be really important to have these two very special guests for this event.
And yes, it will be in English
Location