Galip Tekin
November 25, 10:00am - 11:30am +03. Hosted at ATÖLYE
part of a series on Fantasy
About the speaker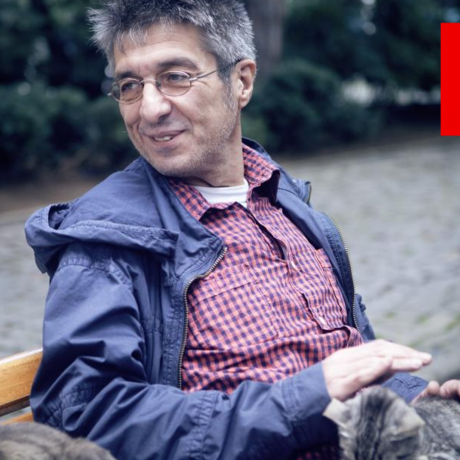 Fantastik ve bilim kurgu tarzdaki eserleriyle tanınan çizgi romancı!
Gırgır dergisinde yetişmiş önemli çizerlerden biri olan Galip Tekin'in Oğuz Aral döneminin Gırgır'ında, komik, fantastik ve absürt öyküler çizerek başladığı çizgi romanları, giderek daha çok bilim kurguya yaklaşmış ve mizahi olmaktan uzaklaştı. Bir dönem çizgi roman denince akla gelen ilk isimlerden biri olan Galip Tekin, hemen hemen bütün mizah dergilerinde çalıştı. Çizerliğinin yanı sıra Taksim'in bir dönem en popüler barı olan Kemancı'nın ortağı ve işletmecisi olan Galip Tekin, aynı zamanda üniversitelerde çizgi roman dersleri vermekte.
Sevilen bazı öyküleri Alavarza, Delik, Son Neoplan, Tursuntur olarak sayılabilir; bu öyküler, 2011 senesinde albümleştirilerek yayınlanmaya başlandı. Hikâyelerinden yola çıkılarak 2012 yılında Acayip Hikayeler adlı dizi yayınlanmış, 4 bölüm sonra 2012-2013 sezonunda yayından kaldırılmıştır. Şu anda Uykusuz dergisinde çalışmakta aynı zamanda 2016'da çıkan "Hortlak" dergisinde çizmeye devam etmektedir.
//
A comic artist known for his fantastic and sci-fi style works!
One of the important cartoonists who grew up in Gırgır magazine. He is started by drawing funny, fantastic and absurd stories in era of Oguz Aral's Gırgır, got closer to science fiction and away from humor. Tekin, one of the first names to come to mind, worked in various humor magazines.
He was co-owner of Kemanci, one of the most popular bars of Taksim for a while; also started lecturing as a comic book instructor at universities, respectively, pioneering the Comics studies in Turkey.
In 2011, Tekin started compiling his best known works such as Alavarza, Delik, Son Neoplan, Tursuntur, under the series of "Tuhaf Öyküler". In 2012, some of his comic book stories were adapted into television series under the name "Acayip Hikayeler", the screenplay for 4 episodes. The series were cancelled that year. He currently works for "Uykusuz" and "Hortlak" magazine.
Local partners
Additional details
Etkinlik, bomontiada C blok, 4.Katta gerçekleşecektir. Konuşma 9:30'da başlayacak ama gelin günün ilk kahvelerini beraber içip, sıcacık simitimizle kahvaltıya başlayalım. // Event will be at C block 4th floor, bomontiada. Talk will be in Turkish.
Location
Hosted at ATÖLYE
Tarihi Bomonti Bira Fabrikası, Silahşör Caddesi, Birahane Sok, No: 1, Şişli
Istanbul, Turkey Turkey 34394
When November 25, 2016
10:00am - 11:30am