FieldTrip: Stretch and Light Yoga for Energy
July 16, 12:00pm - 1:00pm PDT. Hosted at Your Cozy Corner
part of a series on Underdog
About the speaker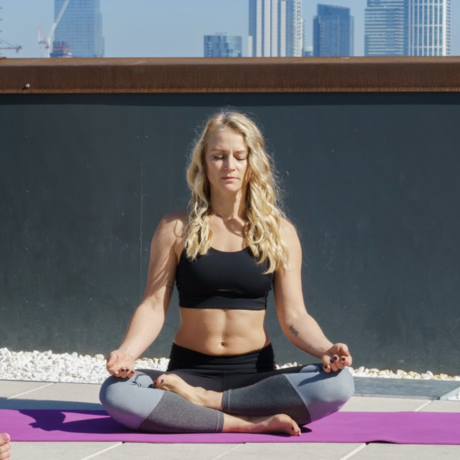 Sara has been in the wellness industry since 2009 as a yoga instructor, personal trainer and corporate wellness implementer. She works with clients all over the world, but currently resides in sunny San Diego.
Sara takes a mindful approach to health—you'll stretch, strengthen, smile and breathe while you move fluidly through movements. Her goal is to bring people together through wellness, whether it's a yoga class, personal training session, retreat or event, she brings a contagious energy and personality! You'll walk away with more energy, better posture, less pain, and with tools to live a healthier more balanced lifestyle.
Sara is an NASM certified personal trainer, 500-hour RYT yoga instructor, a holistic health coach from the Institute for Integrative Nutrition and holds many other fitness certifications.
She offers public and private yoga classes, personal training, corporate classes and retreats - more information can be found at MindBodyLove.com.
Local partners
Vitamin T provides midsized companies and agencies with the best digital creative talent on the planet. With a local focus and a global reach, their specialized agents make great creative matches, fast.
Google is proud to support CreativeMornings San Francisco in championing a vibrant creative community in San Francisco and all over the globe. We believe that design is critical to building great products and experiences, and we're committed to fostering best-in-class results with efforts like Material Design — a unified system combining theory, resources, and tools to help you craft beautiful, digital experiences — and Google Design. From producing original articles and videos, to hosting creative and educational partnerships, our goal is to connect, support, and inspire designers and technologists. To learn more, please visit us at design.google.
Additional details
Join Sara on Zoom for a mid-week stretch session. You will learn simple breathing and stretching techniques to improve posture, reduce pain, and gain more energy for your workday and life.
Sara will take you through some simple ways to unlock tension in your neck, wrists, shoulders and using breathwork to become more mindful on and off your mat.
You'll need a soft surface (mat, towel or carpet), and loose clothing. We will move from seated to lying down during our time together.
_
This event is virtual and will be streamed via Zoom.
Share your love with Sara via Venmo https://venmo.com/mindbodylove
Location
Hosted at Your Cozy Corner
Zoom Link
San Francisco, California United States
When July 16, 2020
12:00pm - 1:00pm