Edible Heirlooms
– Hosted at G5A Foundation for Contemporary Culture
part of a series on Identity
About the speaker
Sana Javeri Kadri is the founder of Diaspora Co., a direct trade spice company working towards a radically equitable, sustainable, and more delicious spice supply chain.
Born and raised in Mumbai amidst a big family of doers, idealists and changemakers, she's spent her brief 26 years on earth thinking mostly about food – how it grows, who grows it, and who has access to it. She's also worked just about every job in the food industry from line cook, to farmer, to historical menu researcher.
She founded Diaspora Co. in 2017 as a wild idea that in less than two years has turned into an award-winning, nationally-acclaimed brand that supports over 100 small Indian farmers and farm labourers, and is recognized as the highest quality spice brand in the USA.
Sana currently lives between Mumbai and Oakland, CA, and wherever there are crunchy vegetables to be found.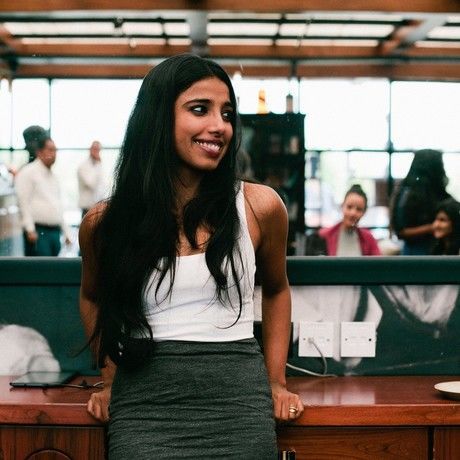 Anisha Rachel Oommen is the editor and co-founder of The Goya Journal.
Born in Bangalore to a Kerala Syrian Christian family, Anisha grew up between the rice fields of Kerala and the coffee plantations of Chikmagalur. She earned a triple-major degree in Economics, Psychology & Sociology, and spent a few years at a Danish logistics firm, before returning to her interests in food, writing and media. During her tenure at Yahoo under editor Prem Panicker, she built a strong background in digital journalism. As a writer and journalist, her work has appeared in several Indian and international publications, including Roads & Kingdoms, Food52, and Scroll.in.
In 2016, she co-founded Goya Media with Aysha Tanya. Goya was the culmination of a deep appreciation for the role that food plays in people's lives and the stark absence of an institution that documents and preserves such intangible heritage.
Today, Goya is a media house whose most widely recognised brand is the Goya Journal, a food & culture publication focussed on culinary storytelling. Goya works with a wide network of writers, photographers and artists across India, documenting culture through cuisine. Goya also produces podcasts, hosts events, and runs a curated e-shop, as extensions of its media arm. Within the F&B industry, Goya also consults with brands and restaurants, sharing its expertise in the areas of food and media.
Additional details
We are what we eat. Nowhere is this more apparent than when sampling India's astounding culinary diversity. Traverse the length and breadth of the country to discover unique regional and seasonal ingredients, each with their own improvised preparations, and heritage recipes that have been passed down for generations. Every farm, every kitchen and dining table has a story.
This month's exploration of Identity is all about Food – It brings us together like nothing else, and through it we celebrate all of the communities and cultures that call this great big 'melting pot' home.
Location