Drukmo Gyal
January 20, 8:30am - 10:00am EET. Hosted at Lift99
part of a series on Roots
About the speaker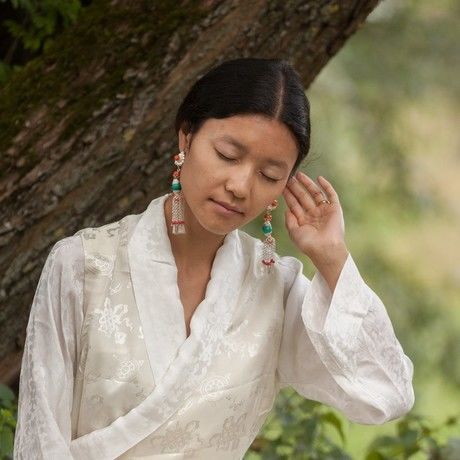 Drukmo Gyal Dakini (འབྲུག་མོ་རྒྱལ ) was born in the Northeastern part of Tibet into a Tibetan yogi (Tib. སྔགས་པ Ngakpa) family where mantra and meditation were introduced at a young age like all other children in the region. With support from the local Tibetan yogic community and family, she started singing publicly from 2008. She moved to Europe in early 2014 in order to work with Sorig Khang International - An NGO registered in Germany to preserve Traditional Tibetan Medicine and Tibetan Spiritual healing, which was found by Dr.Nida Chenagtsang, during her stay in the west, she published 5 albums of Tibetan Healing mantras and chants with musicians from all over the world, she travelled to more than 30 countries with concerts, public talks, workshops and courses on Healing mantras, yoga, meditation as well as Tibetan External Therapies according to Traditional Tibetan Medicine. one of the focuses of all her activities is helping people to find spiritual equality and balance, helping mothers&children to view each other with divinity and compassion through the scope of Tibetan Spiritual healing and Buddhist practices.
Additional details
Join us for this rare and special event with Drukmo Gyal combining body, energy, and mind - to chase away the Monday blues and bring us back to our inner roots. 💙 The event is FREE.
A number of places are limited.
8:30 - doors open at our favourite LIFT99co 8:30 - 9:00 we enjoy coffee from Caffeine and breakfast snacks from Nikolay pies 9:00 - 9:10 introduction part from the organizers 9:10 - 9:40 our morning talk with Drukmo Gyal 9:40 - Q&A 10:00 - Everyone takes off for work
The event is held in English. Tickets go live on Monday 13th of January.
Location
Hosted at Lift99
Tallinn, Telliskivi 60a
Tallinn, Estonia
When January 20, 2020
8:30am - 10:00am