Dilip Kumar Pattubala
April 21, 9:30am - 11:00am IST. Hosted at The Bohemian House
part of a series on Inclusive
About the speaker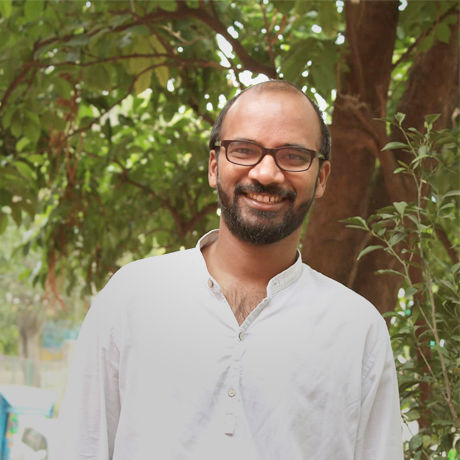 Dilip Kumar Pattubala is an Acumen Fellow and the Co-founder & CEO of Sukhibhava Foundation, a not for profit focusing on making menstruation a non issue in the marginalised communities of India.Dilip has a Master's degree in International Social Welfare and Social Policy from Anglia Ruskin University, Cambridge, United Kingdom and worked for organizations like The Akshaya Patra Foundation, HelpAge India and Pollinate Energy. He is super passionate about breaking the silence around subjects that people hesitate to talk about.
Local partners
Sukhibhava works with marginalized women and adolescent girls, to empower them through awareness and de-stigmatisation in a scalable and replicable manner . Sukhibhava directly works on building awareness with women and girls and also works with influencers like men, boys & teachers to create positive socio-cultural environments. We believe this will eventually lead to increase in demand for the infrastructure and products like toilets, access to water, menstrual hygiene products and soap leading to systemic change. In a largely products driven menstrual hygiene space Sukhibhava believes access & affordability to products is one part of the issue while the larger issue is lack of access to information and behaviour change.
We are currently working with women & girls in Karnataka, Maharashtra, Uttar Pradesh, Jharkhand, Rajasthan and Tamil Nadu. We have also kickstarted the first cohort of "The Period Fellowship", one-year full-time fellowship programme with the objective of educating two and half lakh girls about healthy menstrual practices in next one academic year through 16 dynamic fellows placed in above-mentioned regions. We are working towards including boys and men in the conversation.
The Bohemian House is a platform that inspires creators to create more and create better. We've built a community of free-thinkers, doers and dreamers who come to express themselves through their chosen craft. At The Bohemian House on Richmond Circle, you can co-work with other creative talent, draw inspiration from our store dedicated to reviving tribal art-forms, attend or organize a full year's calendar of inspired events at our venue, and access audiences through our trunk shows and pop up shows across the city.
Location
Hosted at The Bohemian House
Hotel Woodlands, Rajaram Mohan Roy Road, Richmond Town, Sampangi Rama Nagara, Bengaluru, Karnataka 560025
Bangalore, Karnataka 560025
When April 21, 2019
9:30am - 11:00am