Dijana Bucalo
January 15, 8:30am - 10:00am EST. Hosted at International Institute of Metropolitan Detroit
part of a series on Language
About the speaker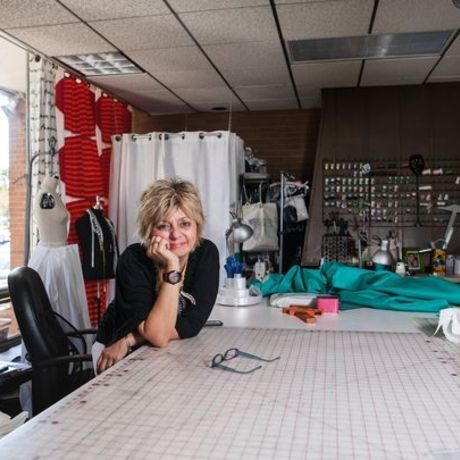 Dijana Bucalo earned her formal training in fashion design in Zagreb, Croatia. Born and raised in Bosnia and Herzegovina, she came to the United States in 1996 with her husband and daughter after the horrifying war that destroyed her country and everything she owned.
Learning the language, creating a new life in a foreign country, while raising a daughter, did not leave space in her life to think about owning her own business. Those dreams were left behind when she left the home. However,she got a job as a seamstresses and slowly began building her portfolio yet again, making individual custom clothing as well as performing costumes.
She was working many years from a home, until 2012, when she opened her own studio for fashion and costume design in Midtown Detroit. In 2014 her business was recognized and awarded with a grant, and that helped her add commercial sewing classes to her business offerings.
Dijana is currently working on her first collection and continues to build her dream, one stitch at a time.
Local partners
Additional details
Doors open for coffee and mingling at 8:30. The talk will begin at 9:00.
January's theme is "language" and we think Dijana Bucalo of Dijana Design Studio is perfect to speak on the subject and fashion design.
This month, we'll host our breakfast event at the International Institute of Metro Detroit, located in Midtown next to the DIA.
The International Institute is a bustling hub of business and cultural activity, founded in 1919 to help legal immigrants learn English, appreciate freedom and democracy, become citizens, be assimilated into their new communities, and learn to understand each other's cultures. The Institute is also home to a vast collection of ethnic and cultural artifacts–dolls, flags, costumes, and ships. Creative Mornings will take place in the Hall of Nations, among many of this gorgeous artifacts.
Ample street parking is available. Download the Park Detroit app to pay easily from your phone.
Location