Dan Urieli
April 23, 9:00am - 10:15am IDT.
part of a series on Purpose
About the speaker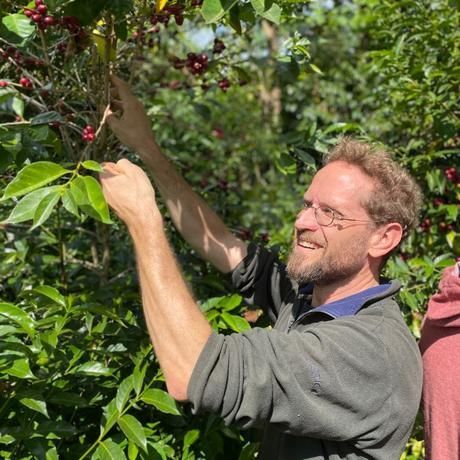 You can watch the live stream video of the event here
Dan Urieli is a coffee aficionado. He has been in the local coffee scene for 18 years now, as Barista, training manager, competition judge, lecturer, advisor, roaster, international sales rep and now importer and owner of Cafe Nahat & Cafe Ada Hanina – micro-roasteries and Cafe. Many of you will also recognise him as the hand who pours your delicious coffee every month. Come hear Dan explain how passion can turn into a career with intention, focus and some good luck.
Local partners
Additional details
Thursday, April 23 In these challenging times, we are grateful to be able to host our in-person events in the digital space.
April's will be our first virtual CreativeMorningsTLV. We'll be hosting Dan Urieli, co-founder of Nahat Cafe, on the theme of #CMPurpose. We're experimenting with the virtual format so we'll start at 9am SHARP and we'll be streaming via Zoom.
How Do I Attend the Event Virtually?
1. As always, tickets are FREE but we'd love you to click 'register' above and grab your ticket when they go live on Thursday April 16.
2. Download Zoom if you haven't already. You can download it for free at https://zoom.us.
3. On April 23 9am Join our Zoom Meeting
Zoom Link: https://zoom.us/j/178408109?pwd=QkcyNGwxNVAvQkZnRWp0a2FYSytBdz09
Meeting ID: 178 408 109
Password: 134679
Event Overview 9:00-10:15am
9AM Log into Zoom with a mug of your fav brew
9-9:15AM We'll try out some breakout coffee rooms so we can connect and mingle
9:15AM Dan will speak. His talk is in HEBREW
9:45AM Q&A + Breakout rooms
10/10:15AM Back to the couch, ahem work ;)
Looking forward to seeing you there, and don't forget to BYOM - bring your own mug of coffee / tea,
Team CMTLV
PS Special thanks to our generous sponsors global and local for making our events possible.
When April 23, 2020
9:00am - 10:15am