Community Takes the Stage
March 8, 8:30am - 10:00am EST. Hosted at Central Library
part of a series on Water
About the speaker
Community Takes the Stage - In celebration of our third birthday, we will have a number of presenters this month who will share stimulating and thought-provoking "shorts" of their take on #CMwater.
➤ Jameson Hampton is a non-binary adventurer who wishes they were immortal so they'd have time to visit every coffee shop in the world. They're a professional plant-liker (and also software engineer) for Agrilyst, an agtech startup that helps indoor growers manage their farms, as well as a panelist on Greater Than Code, a popular tech podcast. But technology isn't their onlypassion! Jamey loves writing poetry and comics, doing magic and enjoying the great outdoors.
➤ Anthony Billoni is a career coach whose passion is community change. Whether that community is family, people seeking to grow as leaders, or the voices in his own head ;-) He has been studying and practicing leadership growth and change since having found the beautiful people at the Creative Problem Solving Institute in 1995. Tony's life has led him though rock bands, theater, designing nite clubs, cathartic events, and now helping our WNY community be rid of the scourge of tobacco. His wish is to help those he connects with believe and accept that change comes to us as often as we go to change. Either direction is of value and each make up the minutes anddays of what we then call our lives. Embrace it all.
➤ Born in Buffalo, NY, Jalen A. Law's first sketches were circles at the age of two. By the age of five, he was creating his own comic books and children stories, selling them to kids in elementary school for Lunchables and extra computer time. He is a graduate from the University of Buffalo, and for the past eight years he has been live-painting and displaying his work at international exhibitions. The theme of Jalen's work deals with the idea of the African American experience and visually expressing the beauty as well as the pain that is a part of the experience. Currently, he is partnered with Best Self Behavioral Health for a research-based art program that teaches Buffalo Public Schools students social and emotional tools that assist them inside and outside of the classroom.
Local partners
The Buffalo & Erie County Public Library consists of the downtown Central Library, eight branches in the City of Buffalo and twenty-eight facilities located on one end of Erie County to the other. There is also Library on Wheels state-of-the art bookmobile. The libraries serve as centers of information, education, culture, and entertainment for the residents of Erie County. The B&ECPL has more than 3.2 million materials - books, eBooks, DVDs, music, and more. Free library cards (traditional and eLibrary) are available to Erie County, New York residents and to those who work and/or attend school in-county. Connect with the library on your favorite social media platform and catch its podcast, All Booked Up!
Paula's Donuts is a family-owned and -operated business that was established in 1996. Every day, their hand-cut donuts are baked fresh on the premises of their three Western New York locations: Tonawanda, Clarence, and West Seneca. With over thirty varieties of donuts and baked goods prepared the old-fashioned way, Paula's is always made with love.
Additional details
LET'S CELEBRATE
We're turning three, come party with us! Wear some CMbuf-inspired orange to help celebrate …maybe even an entirely CMbuf-orange outfit? Hint-hint, wink-wink: there just may be a prize with your name on it.
Photo from CreativeMornings/Richmond.
GET HERE GREEN
This event will be in the Collections Gallery, on the Central Library's top floor. Read more about getting to the library here.
Photo from Beth Insalaco.
INTERPRETERS AVAILABLE
Reserved seats and a sign interpreter are available, thanks to Deaf Access Services. To hold your spot, email us by the Wednesday before the event.
Photo from Beth Insalaco.
BE A ZERO WASTE HERO
All of our events are completely waste-free, so please Bring Your Own Mug (and cloth napkin, if you're feeling extra green).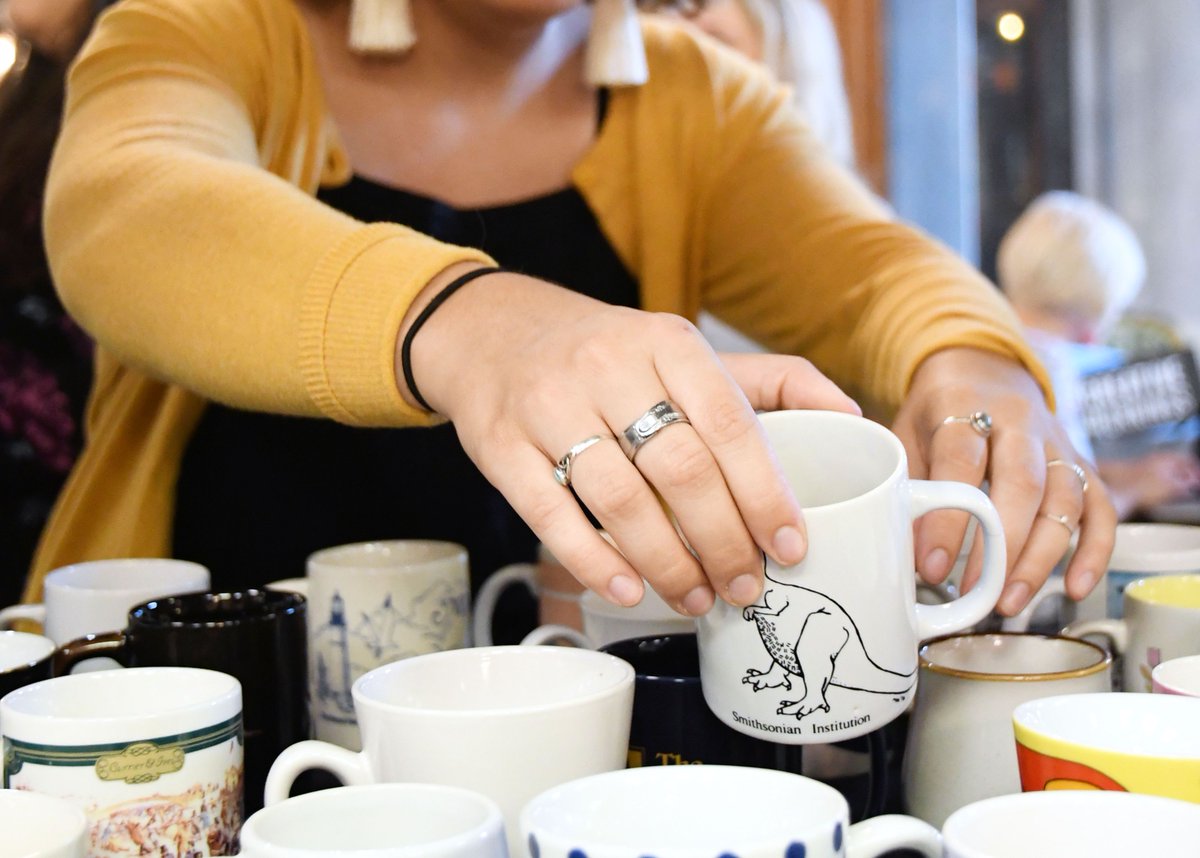 Photo from CreativeMornings/St. Pete.
Location
Hosted at Central Library
1 Lafayette Square
Buffalo, NY 14203
When March 8, 2019
8:30am - 10:00am