Chris Auret on Chaos and Collaboration
About the speaker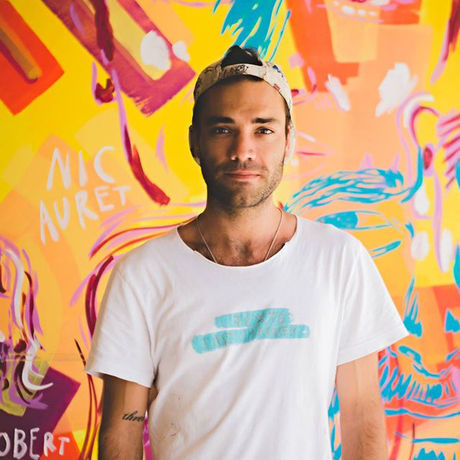 Chris is a South African artist, maker and activator (paintings, murals, photographs, films, writings, sounds and more), currently residing in Muizenberg & the Garden Route. He feels he has much to share within this theme of Chaos, especially in relation to Collaboration.
After graduating at the top of his class with a BA in Brand Communication, Chris worked as an art director in Cape Town for 2 years. Always with an eye for ideas and an endless love for creating, he began his journey into the world of "artist" in 2012, when a seemingly chaotic stomach operation and a few months recovery, gifted him a new perspective on life. It was then and there that he decided to quit his job in order to follow what he always thought was a dream or an after-hours hobby. To him, painting would become the first tool he would pick up in this process of building something new out of chaos.
What followed has been nothing short of an epic journey. In the making of his first solo exhibition in 2014 – a beautifully chaotic experience in itself, funded by a year working on a yacht – Chris began painting murals and making films. His growing interest in listening to the public voice and being a conduit for this voice through his art has become a strong theme in recent ad/ventures.
He has taken part in a number of group shows, created album artworks for well known SA musicians and painted murals across the world. In 2016, he run a successful crowd-funding campaign, involving an online and physical group exhibition, to buy a piece of land in the Garden Route. The intention here: to embark on an off-the-grid, creative retreat and forest-restoration vision. This year, he has also helped design, fund and build a community Longhouse as an artwork at AfrikaBurn, not to be burnt but rather deconstructed, rebuilt and used on the previously referred to piece of land.
As an artist, Chris is currently interested in anonymous collaboration – as well as the holding of spaces which harness community and collective consciousness. His present experiment, a 14-week residency at the Imaginarium in Muizenberg - titled "To We, From Me", is in its last stages of life. Here, during the period 1 July - 15 Oct, the intention has been to explore co-creation, freedom of expression, acceptance and integrity in the spaces between the Me's and the We's, by opening the doors of his studio to the public. He wishes to share this journey with you, using it as an example of the joys and frustrations of working with chaos in the creative process – and, for him, the necessity of it. This, and of course the power and wonder in collaboration.
NOTE: Please bring at least ONE FAVOURITE MARK-MAKING TOOL to this talk. (Pens, pencils, crayons, paint markers, ink, etc).
Chris personally wrote this biography in the third person and felt it quite therapeutic to disconnect from himself and narrate his life story :) He says, "Thank you for listening!"
Favorite quotes from this talk
No quotes yet. Sign in to tag a quote!
76

Lovely Attendees





see everyone