Chella Quint AKA. #periodpositive
– Hosted at Sheffield Institute of Arts
part of a series on Transparency
About the speaker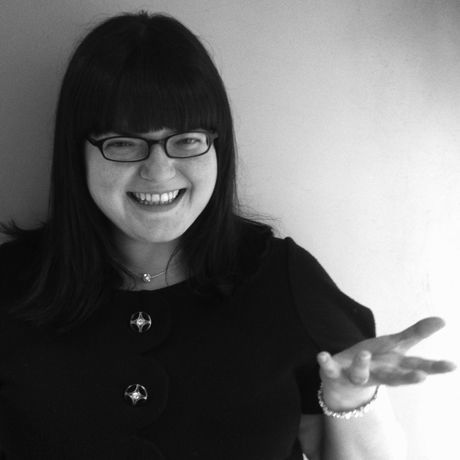 This month's speaker is New Yorker turned Sheffielder, Chella Quint. Originally from Brooklyn, Chella is a comedy writer, performer, designer, artist and educator. She has toured shows at festivals and universities in the US, UK and Europe, with her latest comedy show, Adventures in Menstruating, receiving 5 stars at this year's Edinburgh Fringe Festival link.
Chella is an avid zinester. In fact, Adventures in Menstruating started out as a zine in 2005, and she's now working on her 10th issue in the series. For the last 4 years she has also co-curated Sheffield Zine Fest link to embed the zine scene in Sheffield.
Chella is most well known for her work challenging menstrual taboos. She coined the now widely-used phrase #periodpositive link in 2006 and founded the campaign after her master's research showed that there was a real need for a total culture change around menstruation education – both formal and informal. She uses adbusting, comedy and installation to regularly 'talk back to companies using their own language', having created a spoof brand STAINS™, which began in issue 5 of her zine and grew into a featured installation in the Blood exhibition at Science Gallery Dublin link, and online flashblob campaign. She's since developed STAINS™ into an interactive activity that schools can use for free, inviting young people to improve their media literacy around menstrual product adverts while defusing the fear of leaking at school. A qualified teacher and former head of PSHE, Chella is a researcher for the Gender Respect Project link.
In her free time, Chella moonlights as an amateur astronomer and shares her deep love of STEM subjects through design and performance. She has worked with physicists on developing their own stand-up comedy routines in Geneva at CERN link and performs regularly at the Manchester Science Festival, including compering her popular show featuring physics-loving funny women, Comedy in Space. She most recently worked with the University of Sheffield's Department of Engineering for Festival of the Mind, creating Urban Turbines, an installation encouraging people in cities to think about the power and beauty of wind energy link.
What can we say? Chella gets involved and is a force for change.
Come see her speak at our next CreativeMornings for her talk: 'Being clear about period taboos', where she will bring transparency to the language used around period taboos and share her latest tips and techniques for hacking menstruation education. All with the smart and entertaining humour you can expect from this great performer. We are returning to the Sheffield Institute of Arts link where free breakfast will be served. See you all there! #CMtransparency
Local partners
Sheffield Institute of Arts is an integral part of this vibrant and creative city. Opened it's doors in 1843 to supply creative support to the region's manufacturers, in a bid to stay ahead of the growing global competition. This relationship with the commercial and industrial continues today. Our students enjoy superb access to the working world and the community of experts they will emerge into.
Hello. I'm a UK based photographer working mainly in portraiture. My background is in graphic design so producing an end result that's relevant and effective is my natural way of working. I don't just take the photos, i have ideas too so please feel free to contact me to chat about a brief and about ways we could work together to achieve something we're both proud of.
Location