Cathy Tshilombo Lokemba
February 23, 9:00am - 10:00am MST. Hosted at Studio Elevn
part of a series on Curiosity
About the speaker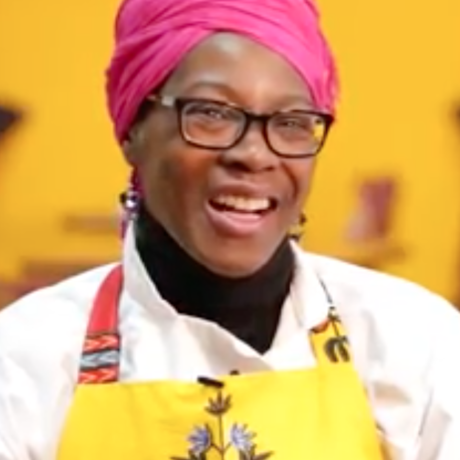 Cathy Tshilombo Lokemba is the Founder and Owner of A beautiful Event and Catering LLC; DBA as MAMA AFRICA LLC. Her restaurant is located at 3460 S. Redwood Road, Suite 5A in West Valley City, Utah 84119 where she is able to cater from 20 to 1000 guests through take out, in a private party, and more. Promoting Creole and African High Gastronomy in the U.S. has been her passion while she has been in business for more than 25 years.
Cathy was raised between Europe, Africa and the U.S. and has been traveling around the world all her life. She promotes African culture through Advocacy, motivation speeches, and actions throughout her non-profit organization called, Mama Africa Kitoko, supporting widows, orphans and victims of rape and wars in the Congo DRC.
She holds two Bachelors Degrees in Interior, and Fashion Design and also an Associates Degree in Business Administration. She sits on the Board of many organizations in the U.S. including Utah and in Africa, such as Women of the World, Congolese Community of Utah, CCDFW, Mama Africa Kitoko, Chamber of Commerce and more. She is the former Vice President of the United African in Utah and has been a very active promoter for the diversity in the U.S. especially in the Texas and Utah States, organizing The first African Festival in Utah, fashion show galas, degustation events and markets and street fairs. Cathy is also a great communicator and dynamic community organizer who is well connected with her African roots and the Utah community who is always ready to serve her people.
Cathy is also a remarkable and distinctive Culinary Entrepreneur and Chef. After obtaining her Food Manager Certification she started developing new packaging and new authentic products of Creole and African flavors to the U.S. market. Today she is a successful entrepreneur and the creator of a delicious hot sauce called "Pili Pili" sold in more than 50 stores well known and respected in the U.S. food industry.
Cathy loves traveling, cooking, decorating, caring for others, promoting and advocating for women (human) rights. She lives in Tooele, Utah with her husband Emanuel Lokemba, an Engineer Mechanic at Detroit Diesel Daimler, where he has worked for more than 30 years. They have 4 kids and 2 grandchild.
Local partners
Mama Africa is a company that produces authentic African food. We offer the best pili pili sauce you have ever tasted. We also offer naturally smoked chicken, Kassava bread, ginger juice and more.
Studio Elevn is a community built on the ideals of connection, collaboration and creation. Members work together to provide creatives the space, support and services needed to make their dreams and projects a reality. Providing space and additional marketing reach, Studio Elevn develops salt lake's chapter as a tool in which to reach its own mission.
Additional details
Doors open at 8:30am.
Parking in back of building, event on 2nd floor.
Come join us for free coffee and Congolese treats (care of our amazing speaker!) while you meet other SLC creative professionals.
Location
Hosted at Studio Elevn
435 W 400 S
Salt Lake City, Utah United States 84101
When February 23, 2018
9:00am - 10:00am