Carlos Casalles - gestor cultural y director de Fundación Puerto Colombia
July 25, 10:00am - 12:00pm -05. Hosted at Instagram
part of a series on Underdog
About the speaker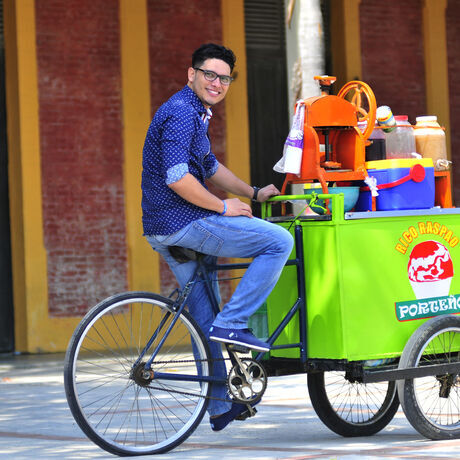 Carlos Mario Caselles Ahumada, Porteño y Gestor Cultural. Comunicador Social - Periodista egresado de la Universidad Autónoma del Caribe. Con Diplomado en Formulación de Proyectos Culturales de la Universidad del Norte. Desde hace 10 años está vinculado a la Fundación Puerto Colombia, Organización sin ánimo de lucro dedicada a la promoción de las artes, la cultura y la historia de la población. En esta ONG se ha desempeñado como Director de Comunicaciones y actualmente es el Director General.
Este hombre caribe creció junto al mar, el sol y la expresiones artísticas de su municipio. Desde muy joven ha servido como voluntario para otras instituciones sociales, descubriendo que a través del arte se pueden transformar poblaciones enteras. En su experiencia como gestor cultural ha organizado como el Festival Internacional de Coros Un Mar de Voces, el Sirenato de la Cumbia y el Carnaval de los Niños del municipio, desempeñándose en este último evento como Director General en el año 2020.
Ha realizado 2 investigaciones históricas relacionadas con Puerto Colombia, La Patrona: que cuenta el origen de la llegada de la imagen de la Virgen del Carmen al municipio; y Memorias del Sirenato, que cuenta los detalles de este certamen cultural que se hace en temporada de pre-carnaval en el departamento del Atlántico.
En su trayectoria profesional ha sido Jefe de Prensa de la Escuela Superior de Administración Pública ESAP Regional Atlántico e Instructor SENA en el área de organización de eventos.
Local partners
More than 15 million people and businesses around the world use Mailchimp's marketing automation platform to to reach their customers and grow their business. Mailchimp shares CreativeMornings' belief that we're better when we work together.
WordPress.com is proud to sponsor CreativeMornings! WordPress.com helps millions of people create beautiful websites for small business, publishing, and blogging. We host sites for some of the biggest companies in the world – including Microsoft, News Corp., and The New York Times – and our users publish more than 80 million new posts every month.
Basecamp offers a project management tool, Basecamp 3, which helps organizations, teams and individuals manage projects efficiently and effectively. Besides its beautiful product, Basecamp is an entirely remote company, famous for its approach to modern work. Learn more about them at Basecamp.com
Additional details
Nos conectaremos a través de nuestra cuenta de Instagram @barranquilla_cm. Todxs son bienvenidxs!
Location
Hosted at Instagram
Online
Barranquilla, Colombia ​080002​
When July 25, 2020
10:00am - 12:00pm