Bo van der Werf
– Hosted at Muntpunt
part of a series on Collaborate
About the speaker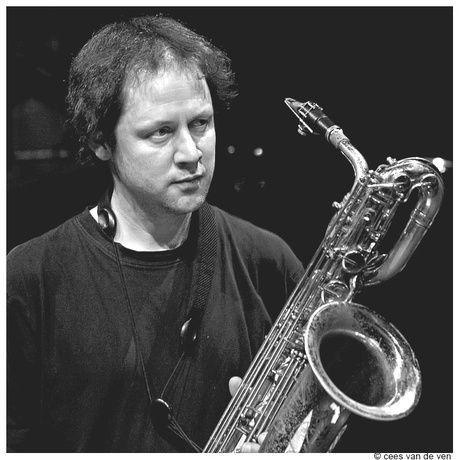 Saxophonist and composer, Bo Van der Werf graduated from the Amsterdam Conservatory. He leads and writes for Octurn: a Brussels-based jazz ensemble, which acts as an exciting laboratory involving some of the most creative young Belgian improvising musicians.
In a continuous collaboration mode, the lineup as well as the composers for Octurn are changed for every album. For one of their projects, Octurn ventured into the authentic universe of ritual chants of Tibetan monks from the Gyuto monastery, which resulted in a live CD in 2012. This was only the beginning of a broader cross-cultural exchange, which was also filmed and will feature in a documentary to be released very soon. During one event at Bozar, Octurn played in dialogue with the beautiful silent films of Nathaniel Dorsky.
Also the modular logo of Octurn is designed as a reflection of different collaborations with other artists: with the triangles representing the different actors, which are joined by a continuous line.
In addition to Octurn, Bo is a member of the Brussels Jazz Orchestra, and leads his own small ensembles and plays free-lance with different groups.
Bo composes music for films, for dance performances and for contemporary classical ensembles. He recently directed his first documentary movie Satyajit Ray negatives, which was shown at several major film festivals (such as Buenos Aires film festival, Festival du documentaire de Paris, Teheran Film Festival, Bombay International Film Festival)
Bo also teaches music theory and analysis at the Antwerp and Leuven conservatories.
At CreativeMornings Brussels, Bo will talk about why collaboration is an always-on mode for him, and how his projects go beyond music into cross-cultural connections, lifestyle choices and philosophy.
Local partners
Additional details
CreativeMornings is a breakfast lecture series for the creative community. Our free, monthly events feature a short talk, meaningful conversations, and… breakfast!
Location
Hosted at Muntpunt
Literair Salon, Muntpunt. Place de la Monnaie 6.
Brussels, Belgium 1000
When
–