Beyond Streetart with Ciaran Glöbel
April 28, 8:30am - 10:00am BST. Hosted at The Whisky Bond
part of a series on Beyond
About the speaker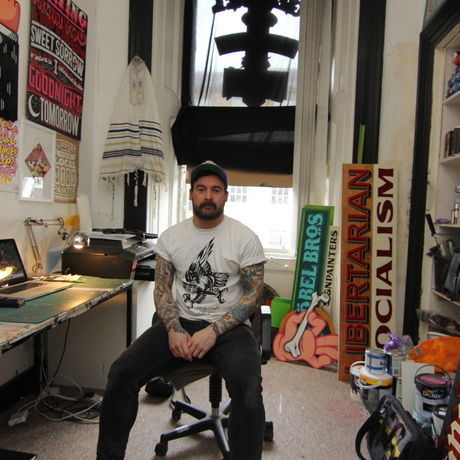 I'm Ciaran Glöbel a self-taught signwriter and commercial artist specialising in hand painted typography and have had the pleasure of working with an ace portfolio of clients including DF Concerts, Jameson Whiskey, Network Rail, Academy Music Group, Irn Bru and BBC Scotland.
Local partners
We support Scotland's creative businesses – it's as simple as that.
Our services help creative micro-businesses and individuals build the skills and knowledge they need to succeed. We do this by providing specialist information and advice, as well as training and networking opportunities. Whether your ambitions lie in the commercial or not-for-profit sectors, we can offer support to you at any stage.
Tuk Tuk was founded in 2012 by the director, Rizvi Khaleque. Our restaurants are known for their colourful interiors, serving small plates of delicious Indian street food. We pride ourselves on being the pioneer of Indian street food culture and delivering exceptional customer service. Using fresh ingredients and authentic spices we have a selection of delicious dishes for everyone. Our philosophy is all about experiencing and sharing good food.
Additional details
Taking us beyond the streets of Glasgow's we have an illustrative maestros ready to transport us on a magical journey of streetart.
From his studio tucked away on West Regent Street Ciaran Glöbel creates hand painted masterpieces that bring streetart to an audience athirst for colour and flare. Joining us as our April speaker he'll be lifting the lid on his own creative journey.
And with Fashion Revolution Week in full swing artist and illustrator Alice Dansey-Wright will be joining us to handprint pre-loved denim garments with two prints designed exclusively for this month's theme raising funds and awareness for award winning Glasgow based upcycling project Rags to Riches. Oh and did we mention Tuk Tuk will be on hand with mango lassis so smooth you might just think you're in Bengaluru.
Location
Hosted at The Whisky Bond
2 Dawson Road
Glasgow, United Kingdom G4 9SS
When April 28, 2017
8:30am - 10:00am