Andrew King
– Hosted at Arts Court Studio
part of a series on Hidden
About the speaker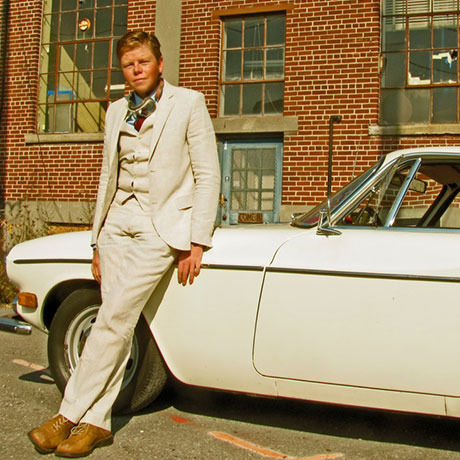 Some know Andrew King as one of Ottawa's finest artists. Others might know him for his famous #wellboro walks. While even more may have recently heard of him after uncovering and shedding light on local gems on his blog "Ottawa Rewind".
Part artist, part prankster, part historian, and part explorer, Andrew is a rare and valuable gem in Ottawa's creative community.
Born in Kingston, Ontario, Andrew moved to Ottawa in 1991 to study Industrial Design at Carleton University. During this time, he contributed to the Ottawa Citizen's comics page with a weekly strip entitled "Off The Wall" which was published from 1993 to 1997. A number of his comics were printed in newspapers across North America through King Features Syndicate.
During 2003 while on hiatus between freelance design projects, Andrew began to paint and exhibited his first show. Utilizing his design skills, animation background and unique brand of humour, his works vary from contemporary landscapes to almost graphic cartoon style images. Influenced and inspired by where he grew up, his travels and Prince Edward County where his parents live, his work evokes both humour and emotion through minimalism, lighting and colour.
His work has been featured in a number of art exhibitions in Ottawa, Toronto, Guelph and the Muskokas, as well as in galleries across Ontario. His work appeals to a wide range of audiences and continues to evolve as he progresses his art form.
Andrew has recently brought Ottawa's largest forgotten theatre, a shipwreck in the Ottawa River, and even submerged fortresses in the St. Lawrence River to the public's attention. His ability to dig out fascinating stories from details that we otherwise ignore or never even see has made Andrew the perfect speaker for our series on Hidden.
(Photo credit to Kathleen Wilker which originally appeared in the Ottawa Citizen Style article by Jennifer Campbell).
Local partners
Ottawa's downtown destination for performing, visual, literary and media arts. Arts Court is home to a group of Ottawa's professional arts producers and presenters. Today, 26 independent organizations call the historic building home.
An Ottawa institution, Magpie Jewellery takes pride and care in selecting only the finest jewellery from designers across Canada and the world and in bringing them together in unique displays that entice and inspire. With 3 locations Rideau, Glebe and the home of our fantastic support local collaboration "Arts Nest" at the new Westboro location, Magpie Jewellery is the first stop for designer and alternative bridal jewellery in Ottawa. Magpie Jewellery's support of CreativeMornings is just one of the ways in which they help foster a culture for creativity and art in Ottawa, we are thrilled to have Magpie Jewellery in the CreativeMornings community!
Location
Hosted at Arts Court Studio
2 Daly Avenue
Ottawa, Ontario Canada K1N 6E2
When
–