Tony Gonzalez
January 20, 8:30am - 10:00am CST. Hosted at Studio 615
part of a series on Mystery
About the speaker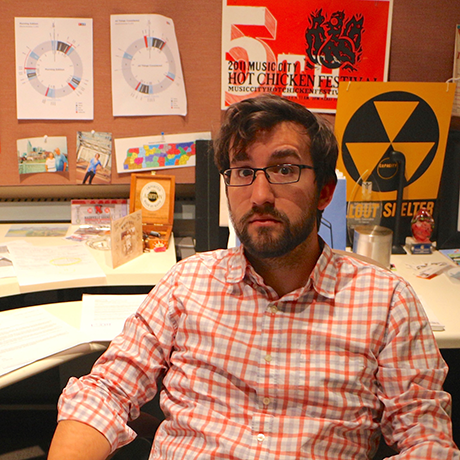 Tony Gonzalez has endeavored to report Nashville's most interesting stories since 2011 — first for The Tennessean newspaper and now for 90.3 Nashville Public Radio. His investigative journalism and offbeat human interest stories have been honored nationally, and he was recently selected to launch a new podcast with PRX. Gonzalez grew up in the Chicago suburbs and married his high school sweetheart, Katie Gonzalez, a book artist. They live in East Nashville with a bullmastiff named Porter.
Local partners
Grand Palace is a screen printing company in Nashville, TN focusing on hand-printed merchandise and memorabilia, primarily t-shirts and posters.
Frothy Monkey is a neighborhood restaurant & cafe offering a diverse menu including breakfast, lunch & dinner. In addition, we pride ourselves on the service of outstanding coffee, espresso drinks, & house-made teas & beverages.
Centrally located in Nashville, TN, Lithographics is a nationwide supplier of the highest-quality printing organizations ranging from Fortune 500 companies to small businesses. At Lithographics, we pride ourselves on excellent service and cutting-edge technology that allow us to meet ever-changing customer needs for sophisticated products at a competitive price. We believe that printed products can be a key part of the marketing mix for your company and work with you to get just the right product to drive your growth.
Location
Hosted at Studio 615
272 Broadmoor Drive
Nashville, Tennessee United States 37207
When January 20, 2017
8:30am - 10:00am