TNT Brothers
August 28, 8:30am - 10:00am EEST. Hosted at Cinéma Elvire Popesco
part of a series on Action
About the speaker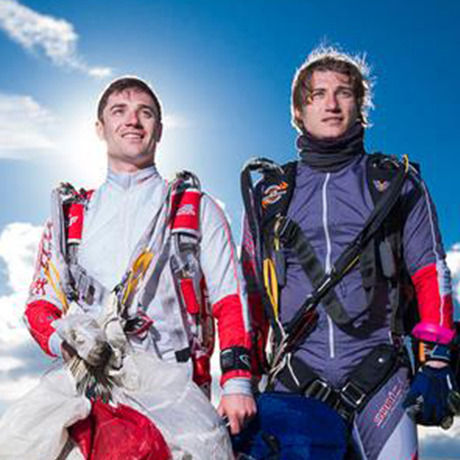 Skydivind has been a part of Dragoș and Bogdan Boeru's life since they were little. At ages 7 and 8, they used to fly together with their father, a military skydiver, to watch him jump. As soon as they reached the legal age, they got their skydiving licence at Aeroclubul României, and had their first jump in 2002. After observing the way this sport is practiced in other countries, in 2010, they founded TNT Brothers. Their goal was to promote skydiving and to change the way it's perceived in Romania.
In only five years, TNT Brothers has become the most important and modern private skydiving center in Central and South-Eastern Europe, attracting both seasoned and amateur skydivers from over 30 countries. In addition, TNT Brothers organizes Dynamite Days, now one of the best skydiving festivals in the world.
Local partners
The lecture will be held at Cinéma Elvire Popesco, which is part of the Institut français de Bucarest.
"Placé sous la tutelle du Ministère de l'Europe et des Affaires étrangères, l'Institut français est un centre de ressources et un lieu d'échanges culturels au sein de Bucarest agissant sous l'autorité de l'Ambassade de France en Roumanie. Ses différentes missions consistent en la diffusion de l'enseignement de la langue française à un public large, et de création artistique française en coopération avec divers partenaires culturels. L'Institut français est donc un instrument d'influence, de coopération et de promotion de la culture française, permettant d'affirmer les valeurs de la liberté d'expression et de la diversité."
Additional details
1. Last summer event - high chance of being sunny.

2. Breakfast is in the garden in front of the Cinema Hall, starting at 8:30, the talk is in the Cinema Hall at 9:00-9:15 AM.
Location
Hosted at Cinéma Elvire Popesco
bd. Dacia 77
Bucharest, Romania 020051
When August 28, 2015
8:30am - 10:00am