St+Art Mumbai
November 22, 9:30am - 11:30am IST. Hosted at St Jude Bakery
part of a series on Chance
About the speaker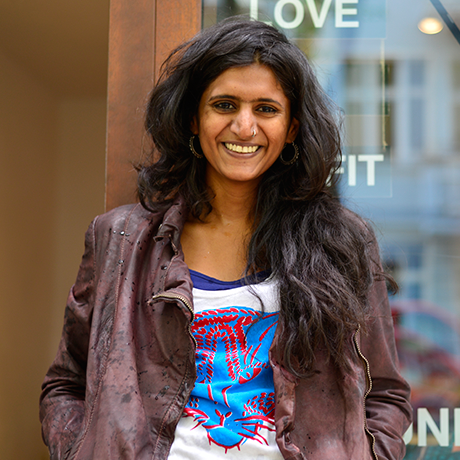 Anpu is a painter. Having graduated from Baroda and London, she had her first solo show in New York in the summer of 2008 following which she moved to Bremen, Germany. There she shared a studio with 15 artists, some of whom were actively writing on the streets. This was her first encounter with serious street painters, and during her 2 years stay in Bremen, she organized her own exhibition at a night club and started doodling on the streets, her style being mainly stencils. In 2011 she moved to Delhi and has been making her signature cat stencils since. She painted her first massive wall at the extension Khirkee project in Delhi and has been actively painting murals around India since participating at St+art Delhi 2014.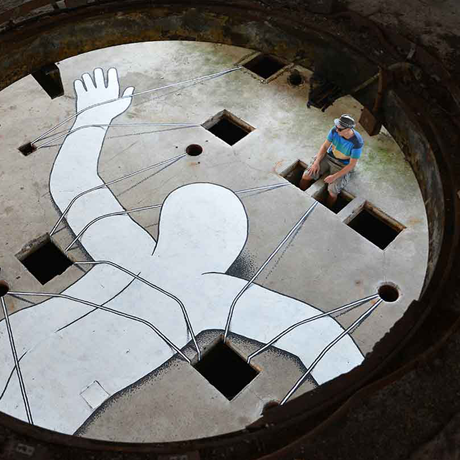 Daan Botlek is a Rotterdam, Netherlands-based street artist and illustrator known for his minimalist characters and their etherial grasp on the tangible world. In places as distant as Leipzig, Germany and Bangkok, Thailand, Botlek has been inserting his often stark white characters into old building facades, giving their locations a surreal new ambiance as the characters bizarrely interact with the space. His figures, which clearly pay tribute to those of the late Keith Haring, are both ghostly white, and ghostly in their otherworldly interaction with the surrounding space. He is being invited in many important projects and galleries all over the world as recently in Moscow for the Street Art Biennial and in Paris for Le Mur project.
Local partners
Since its foundation in 1942, Asian Paints has come a long way to become India's largest and Asia's third largest paint company, with a turnover of Rs. 127.15 billion. Asian Paints operates in 17 countries and has 23 paint manufacturing facilities in the world servicing consumers in over 65 countries.Asian Paints has always been a leader in the paint industry, pushing new concepts in India like Colour Worlds, Home Solutions, Colour Next, and Kids' World.
Kyoorius has been on the forefront of connecting the creative world, within India and internationally, through various design activities, including the annual Kyoorius Designyatra and regular publications such as the Kyoorius Design Showcase and Kyoorius Magazine.
Kyoorius is an initiative by Transasia Fine Papers Pvt. Ltd.
Additional details
St+Art Mumbai is an urban art festival that will bring together some of the best Indian and International street artists for a month of murals, installations, performances, workshops, walks and talks on the streets. The festival aims to promote street art and graffiti on Indian landscapes, as well as provide a colloborative platform for artists from all over the world.
Location
Hosted at St Jude Bakery
Waroda Road, Off Hill Road, Ranwar, Bandra West
Mumbai, Maharashtra India 400050
When November 22, 2014
9:30am - 11:30am