Sara McIntyre
January 31, 8:30am - 10:00am EST. Hosted at Wanderlinger Brewing Company
part of a series on Roots
About the speaker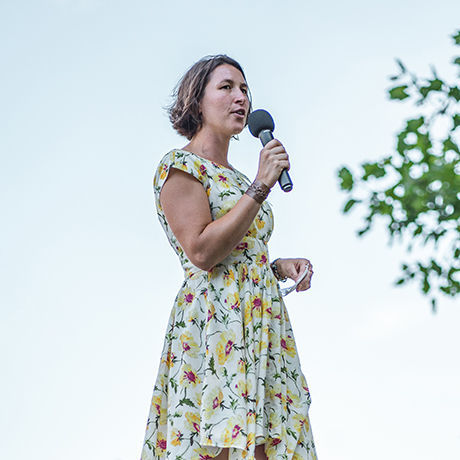 Sara McIntyre is the Executive Director of Crabtree Farms, a nonprofit begun in 1998 that's dedicated to being a thriving and inspirational farm that grows healthy food, educates our community, and brings people together. Crabtree Farms aspires to be catalytic and cooperative in growing a healthier and more connected community.
Shortly after moving to Chattanooga in fall 2010, McIntyre discovered Crabtree Farms and dove into the organization through volunteering in the greenhouse and on the farm. The mission of Crabtree Farms, its approach to fresh seasonal foods, the great experiential education programs, and its focus on sustainable agriculture, are what first attracted McIntyre to this influential and fulfilling work. Since 2011, she has engaged in all facets of life and work in the organization as a volunteer and then as staff including Urban Farmer, Volunteer Coordinator, Education Coordinator, Farm Manager, and since 2014, Executive Director.
McIntyre is a native of Kansas City, Kansas. She has a Bachelor's Degree in Biology from Carleton College in Northfield, Minnesota and did her graduate work in Environmental Education through the Universities of Wyoming and Utah State at the Teton Science School, in Kelly, Wyoming. Most recently from Santa Monica California, she taught Science for five years at the middle and high school levels, including one year at Chattanooga's Baylor School. McIntyre uses her experience as an educator and scientist both in and out of the classroom to enable Crabtree's farm and educational programs to grow and thrive.
Local partners
Additional details
We're back! It's a new year! We've missed you all! Hope your holiday season was one of rest and rejuvenation; excited to dive back into the work and make this year an inspiring one together!
Location