Sadiqa Reynolds of Louisville Urban League explores race and discrimination and gives an inspiring challenge that the time for change is now.
About the speaker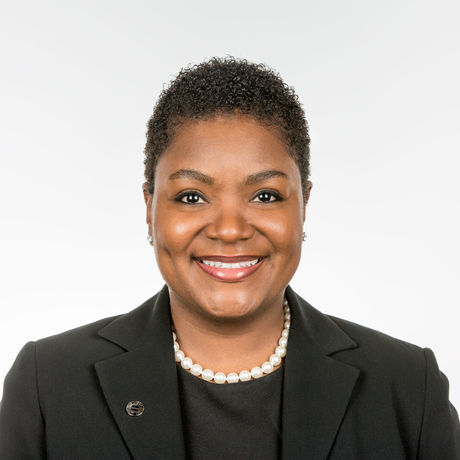 Sadiqa Reynolds is the President and CEO of Louisville Urban League. Her appointment made her the first woman to hold this title in the affiliate's 95 year history. She has previously served as Chief for Community Building in the Office of the Mayor where she oversaw approximately 1500 employees who operated the city's Parks, Public Health and Wellness Programs, Animal Services, Human Relations Commission, Libraries, Zoo, Community Services, and the Office for Safe Healthy Neighborhoods. Sadiqa serves or has served on several boards including Fund for the Arts, the Depression Center, BankOn, Maryhurst, Habitat for Humanity, Home of the Innocents and the WAVE3 Editorial Board, WDRB Editorial Board, Cradle to Career Committee, 55K, GLI and the Federal Reserve Board.
She has served as District Judge for the 30th Judicial Court. She was also the first African American woman to clerk for the Kentucky Supreme Court when she served as Chief Law Clerk for the late Chief Justice Robert F. Stephens. Her life as a public servant has also included being the first African American to serve as the Inspector General for the Kentucky Cabinet for Health and Family Services. There she worked to ensure regulatory compliance and integrity in programs and facilities responsible for providing quality health care, child care and related services, as well as working closely with the Center for Medicaid/Medicare Services in the Federal Government. As IG the ultimate oversight of the Kentucky All Schedule Prescription reporting program (KASPER) was also under her purview.
Prior to entering the public sector, Sadiqa owned and managed a private legal practice for many years. Her practice included criminal litigation, employment law, death penalty litigation and serving as Guardian Ad Litem representing abused, neglected and dependent children as well as arguing successfully before the 6th Circuit Court of Appeals. She has also been recognized by the Louisville Bar Association for providing pro bono hours in which she represented domestic violence victims and other disadvantaged citizens.
Sadiqa earned her BA in Psychology from the University of Louisville and her law degree from the University of Kentucky. She is a member of Delta Sigma Theta Sorority, Inc. and Bates Memorial Baptist Church. She has mentored and stayed connect with many young people and is passionate about making a difference in every life she is able to touch.
She has worked to identify funding for programming in order to provide opportunities for young people in our community and spearheaded the move to create a liaison between the public school system and LMPD in order to assist children exposed to domestic violence. She is an advocate for mental health awareness and regularly works and speaks in order to reduce the stigma around mental health. She is also a proponent for Restorative Justice and participated in the face it campaign to end child abuse. Under her leadership, the Louisville Urban League is committed to jobs, justice, education, health and housing. Those who know her know that she is tenacious and dedicated to making a positive impact in the world.
Sadiqa regularly serves as keynote speaker and through her community work has been recognized as a Business First Enterprising Woman to Watch, a Woman of Influence, been honored with a Tower Award, a Torch of Wisdom and been named a Daughter of Greatness by the Ali Center. She's received the Fannie Lou Hamer award, for her commitment to justice and in 2016 was named one of 100 Women to Watch in the country by Biz Women. Through her work at the League, she's also been recognized as a Housing Advocate by the Mortgage Bankers Association. Sadiqa has been featured on public radio and in numerous print media outlets including Today's Woman & NY Times. She loves to read and travel and has two phenomenal daughters Sydney, 11 and Wynter, 10, both of whom are being educated in the Jefferson County Public School System.
Favorite quotes from this talk See all
"

There is no program you can create to fix what policy and law has broken. We have got to do more and it is you who must decide that you don't want to live in a city where some people, because of their zip code, can live longer; where some people because of their skin color can feel safer. — Sadiqa Reynolds
"

We have the power in this room to use our voices to make a difference, to be better than those who came before us. You can change the world, but you have to want to. You have to understand that the world needs to be changed. — Sadiqa Reynolds
"

Where is the outrage from the people with so much privilege in our country? When do we push for real change? How many people have to die?! — Sadiqa Reynolds
"

Your zip code should not predict how long you live. — Sadiqa Reynolds
"

I don't know if your life is valued, if you understand what it is for us to walk around in this skin, to work everyday, to pay taxes and, to be so afraid that if something happened to you or someone you loved, that no one would even mourn. — Sadiqa Reynolds
Photos from this talk See all
navigateleft
navigateright
328

Lovely Attendees



see everyone