Roni Landa
November 23, 8:30am - 10:00am IST. Hosted at Edmond de Rothschild Center
part of a series on Death
About the speaker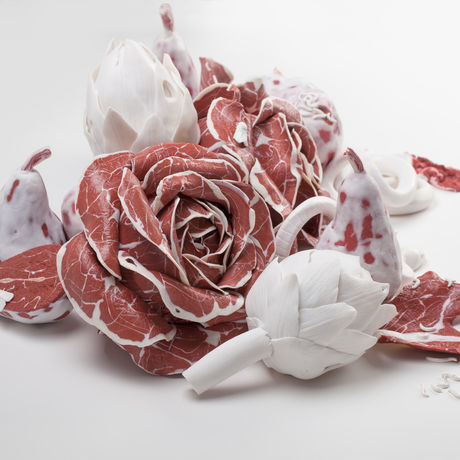 Roni Landa, graduate of the Textile Design department in Shenkar College of Engineering, Design & Art (2011), was born in Israel and today creates in Tel-Aviv.
Roni focuses on sculpting in polymeric clay and its different structures. Her techniques are inspired by classic sculpting, product design and at times, borrowed from the culinary realm, all of which she translates into her own world of images and imagination.
In her work she attends to the dark and complex sides of our being. She wishes to recreate the moment of acknowledging and meeting death face to face, an issue which occupies her from childhood.
Her works can be viewed as if somewhere between a polished aesthetics and a Sisyphean toil. This tension aims to create a dialog with the observer – on one hand, at first glance, a small, known, and easy on the eyes work while on the other hand, a very complex, sensual, rough, dark and disturbing image. This experience is accented by the mostly monotonic color scheme – choosing soft colors creates a naïve, soft, pop like look and texture, that is contradictory to the harsh experiences at its base.
Roni's inspiration comes from nature, design, pop- surrealism and kitsch. However, she is also very much drawn to side margins, abnormalities, fetishism, pervert and memento mori, as well.
Local partners
Wix has everything you need to create your own stunning website for free. No creative limits, no coding - just the freedom to express yourself and manage your business online. Wix was founded on the belief that everyone should be able to develop, create and contribute online. Join the 87 million users around the world who choose to create stunning websites with Wix.
The Center hosts cultural events, exhibitions and lectures in the fields of art and science. It encourages original, innovative Israeli art, with multidimensional explorations and productive dialogue, pertaining to the fascinating cultural fabric created by Israel's dynamic society.
Coffee salon & roastery, Nahat offers several blends & single origin specialty coffee brewed in various methods. The cafe serves freshly baked goods and more. Come taste our coffee at CreativeMorningsTLV and visit our cafe on 1 Reines St, off Kikar Dizengoff, Tel Aviv.
Additional details
Thursday 23rd November:Join us this month for an inspiring morning with artist Roni Landa on the theme of #CMDeath.
Tickets are FREE but space is limited so be sure to click 'register' above and grab your ticket.
Great coffee by Nahat, tasty delights and mingling from 830am…and a chance to wander around Illustration week exhibition "חפץ"
Roni's talk is in HEBREW and will start at 9am SHARP. And you're off to work by 10am.
Parking: The closest Irya Tel Aviv parking are Habima or opposite Yehuda Levi 79 / Delicatessen. Both are a 5min walk to the venue.
Special thanks to the generous humans at Wix.com for making our events possible and the Edmund de Rothschild Center for hosting us!
Looking forward to seeing you there, Team CMTLV
Location